In men's college basketball, four SEC matchups took place Tuesday night. No. 4 Alabama was the only top-25 ranked SEC team in action.
Alabama vs. Vanderbilt
The Crimson Tide looked to defend home court against Vanderbilt, who was looking to pull off the upset and hand Alabama their first conference loss of the season.
The home team came out strong, however, jumping off to a 21-5 run.
After a 43-15 first half, the Tide put up a staggering 58 points in the second and blew out the Commodores 101-44. This win marked the team's largest margin of victory against an SEC opponent in program history.
https://twitter.com/SEC/status/1620628265911349249
Freshman Alabama forward Brandon Miller lead the charge, dropping 22 points and eight rebounds for the Crimson Tide (19-3, 9-0).
As for Vanderbilt, this loss drops their record to 10-12 overall and 3-6 in conference play.
Kentucky vs. Ole Miss
The Wildcats hit the road to take on Ole Miss in Oxford. Kentucky was coming off a tough loss it suffered at the hands of No. 8 Kansas, while Ole Miss came in looking to halt a three-game skid.
This game was neck-and-neck early. At the half, they were tied at 32.
Coming out of the halftime locker room, however, Kentucky locked in. The Wildcats (15-7, 6-3) put up 43 points in the second and managed to pull away late, leaving Oxford with a 75-66 win. The win marks the fifth straight in conference play for the Wildcats.
Senior Kentucky guard Antonio Reeves dominated offensively for the Wildcats in this one. He scored a season high 27 points on an efficient 8-12 shooting from the field, 6-7 from 3-point range.
https://twitter.com/KentuckyMBB/status/1620639811647459329
Ole Miss, on the other hand, falls to 9-13 overall and 1-8 in conference play following the loss.
Texas A&M vs. Arkansas
The Aggies and Razorbacks held similar records entering this game, with A&M sitting just one game ahead of Arkansas in the standings.
They went back and forth early, but Arkansas was able to earn an eight-point halftime lead.
A&M did its best to keep things close, but they were never able to catch the Razorbacks.
With the 81-70 win, Arkansas improved to 15-7 overall and 4-5 in conference play. The Aggies fell to 15-7 overall and 7-2 in conference play.
Guards Ricky Council IV and Davonte Davis lead the Razorbacks' scoring, contributing 19 apiece.
https://twitter.com/SEC/status/1620613989310029824
Mississippi State vs. South Carolina
Wrapping up Tuesday's SEC action, South Carolina took on Mississippi State in Columbia.
The Gamecocks entered the matchup on a five-game losing streak, all against SEC opponents, while the Bulldogs, oppositely, were coming off a huge upset-win over No. 15 TCU.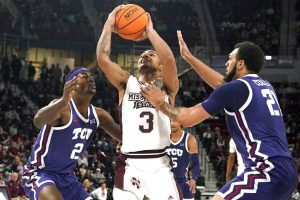 Mississippi St. controlled much of the game after the first 15 minutes and used a strong first-half finish to propel them to a six point lead at the intermission.
Despite being held to just 25 second-half points, the Bulldogs (14-8, 27) were able to take a 66-51 victory.
The Gamecocks fell to 8-14 overall and 1-8 in conference play.
Junior guard Shakeel Moore had a career night for the Bulldogs, scoring a career high 22 points on 9-11 shooting from the field.
Junior guard Cameron Matthews had the highlight of the game, finding senior forward Tolu Smith for an emphatic fast break dunk.
https://twitter.com/HailStateMBK/status/1620795553377566720