As a reporter, I normally have to toe the line of partiality to give readers and viewers an unbiased look at the information they need and why it is important.
As a wrestling fan, I get to throw that away, cheer the good guys and boo the bad guys. The people in the crowd are an integral part of the show.
So I am glad that when I attended WWE NXT's live event in Gainesville, I got to go as a fan.
Keeping Kayfabe
The best thing about wrestling shows is that the entire crowd is in on the illusion. The suspension of disbelief that exists in this form of entertainment is what makes it special for the fans and performers alike. Being in on it all made the interactions I had with wrestlers all the more memorable.
NXT superstar Tank Ledger told me I looked good (I had decided to wear a blue suit with a red tie). Luca Crusifino told me my suit was garbage.
Malik Blade, a personal friend of mine, said it was good to see me. Drew Gulak told me I suck. Gulak had just lost his match, but what do I know?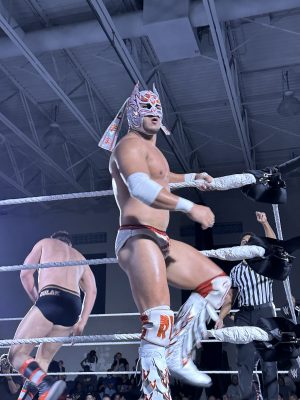 Lights, Camera, Action
When the show started and the ring announcer introduced the first match, the crowd at MLK Recreation Center was buzzing. NXT superstar Ilja Dragunov mauled Javier Bernal in the show's opener. After attending a number of shows in the upper deck, it was refreshing to be able to see and hear the action from the front row.
When a wrestler bumped off the canvas, it was as if I could feel the pain myself. I was close enough to see facial expressions and hear the dialogue between performers. The details of ring psychology can normally only be seen through TV cameras. Being close enough to high five and heckle wrestlers gave me a perspective I am eager to have again.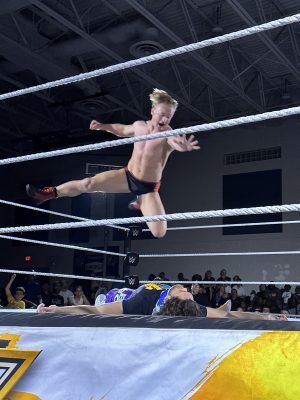 The Winner of this Match…
Overall, I enjoyed my experience at NXT in Gainesville. I got to see some of the people I have watched on TV for months perform at an arm's length away. Their winces and smiles helped me gain a new appreciation for one of my favorite forms of entertainment.
It's not easy. But I'm glad they do it.