NEWBERRY — The Newberry High School football team dominated from the start on senior night Friday by shutting down P.K. Yonge, 35-0, behind a stifling defense and an excellent passing attack.
The Panthers improved to 6-2, while the Blue Wave dropped to 3-5.
Panthers Take To The Air
In the first half, sophomore quarterback Keil McGriff tore up the Blue Wave defense, throwing for more than 170 yards and two touchdowns. The first touchdown came on the first drive of the game, a 1-yard flat to Jonathan Powers.
After a long P.K. Yonge possession stalled at the Panther 17, McGriff hit senior receiver David Schmidt on second-and-30 for a 61-yard touchdown strike to take the lead to 14-0.
The rest of the second quarter did not see any scoring despite a few promising drives for both teams, ending the half with the same 14-point margin.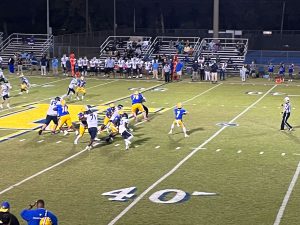 Unforced Errors
The third quarter featured great defense, but also sloppy offensive play from P.K. Yonge. Their first drive coming out of the locker room ended on a Calvin Thomas fumble recovered by Zavian Gillum.
P.K. Yonge committed a facemask penalty to put Newberry in excellent position on the Blue Wave 27. However, after a 20-yard completion to Schmidt, the PKY defense stood tall, stopping Kaleb Woods on fourth-and-goal from the 1 to keep the score 14-0.
Three plays later, it appeared P. K. Yonge was back in business, but a 26-yard completion was called back for the pass coming just past the line of scrimmage. The penalty killed the drive's momentum and a poor punt set the Panthers up on the Blue Wave 24.
Newberry Takes Over
After a scoreless third quarter, Newberry sought to put the game away. On the first play following the break, Woods did just that, scoring on a 9-yard touchdown run to take the Panthers' lead up to 21-0.
After a quick three-and-out, he scored again, this time from 6 yards out to seal the game.
Newberry coach Edward Johnson put in his backups for the final possession of the night. But, that didn't stop the NHS scoring, as sophomore Kobe Johnson hit freshman Troy Fleming for a 10-yard touchdown reception.
Up Next
P.K. Yonge travels to Ocala to play Trinity Catholic (2-6) at 7 p.m. Thursday. Newberry looks for its third straight shutout of the season at Crescent City (3-5) at 7 p.m. Friday.