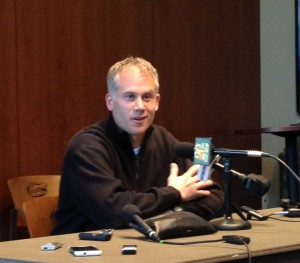 Florida football defensive coordinator DJ Durkin is getting used to his new position and also talked Gator spring practice.  Durkin is new to the job of defensive coordinator having previously served as Florida's special teams and linebackers coach. He finds one thing in particular hard about his new role.
Durkin is an intense recruiter and spoke about his thought process on the recruiting trail.
He isn't the only coach on Florida's staff transitioning into a new position; defensive line coach Brad Lawing is settling to his new position after coming from the University of South Carolina's coaching staff.
Buck linebacker Ronald Powell is still recovering from ACL surgery and Dante Fowler has filled in in his place. The nice thing about having Powell back is that both can play in the his first unit.
Loucheiz Purifoy has returned to defense after a foray on the receiving corps; his return allows Florida to do different things in coverage.
Durkin is happy with many of the early enrollees on the defensive side of the ball including defensive lineman Darious Cummings…
And Daniel McMillian…
Florida plays it's Orange and Blue debut spring game April 6th.