The Gators Baseball team opens up a three-game weekend series against No. 12 Ole Miss Friday night at McKethan Stadium. The Gators are 11-15 this season and 2-4 in SEC play, while the Rebels are 21-4 on the season and 3-3 in SEC play.
Florida's last action on the diamond was in Jacksonville on Tuesday, where they played Florida State for the second time of the season. The Gators and Seminoles were tied at 1-1 until the bottom of the eighth inning where Florida State scored one run and held the Gators scoreless in the top of the 9th to secure a 2-1 victory.
Florida's only two SEC wins this season have been in its Friday night openers against No. 10 Kentucky and No. 5 Vanderbilt. The Gators lost grasp in the final two games of both series, resulting in disappointment of what seemed to be promising weekend victories. Florida's opponents this season have combined records of 412-156, giving them the toughest schedule in the nation.
Gators Head Coach Kevin O'Sullivan said,
"It's just little things that we have not been able to execute but it will turn at some point. We're going to continue to coach them up and try to fix these mistakes but we've just been in a bad rut where our mistakes have been hurting us."
In Florida and Ole Miss' sporadic meetings, the Gators hold a 46-44 edge on the all-time series, including 26-13 in Gainesville. Gators head coach Kevin O'Sullivan is 9-7 against Ole Miss, while the Rebels head coach Mike Bianco is 21-14 against Florida.
Bianco says the Gators are going to succeed this season, but hopefully after this weekend:
The Gators continue to heat up their bats with sophomore catcher Taylor Gushue hitting three homers in the last five games. Also coming around at the plate, has been sophomore second baseman Josh Tobias, who has a .353 average in SEC play in addition two home runs against Kentucky. In the last ten games, Gators freshman Harrison Bader has held a team-high .325 batting average. Bader was riding an eight game hitting streak until last Sunday's rubber match against Vanderbilt.
Taylor Gushue talks about their plate appearances:
Over in the other dugout, the Rebels have put together a team batting average of .297, which is fourth best in the SEC. The Ole Miss lineup is highlighted by junior catcher Stuart Turner, who sports a .460 batting average on the season. This is Turner's first season in the SEC, as he played for a junior college in Louisiana before transferring to Ole Miss.  Another player to look out for in the Rebels lineup is sophomore first-baseman Sikes Orvis. Despite Orvis' batting average of .295, he has batted .583 over the Rebels' last four games.
Stepping on the mound for Florida Friday night is freshman right-hander Jay Carmichael (3-1, 1.88). Game one of the series will be Carmichael's third Friday night start in a row. In 28.2 innings, the freshman has allowed 6 earned runs, has walked 9, struck out 18, and has is holding opponents to a .167 batting average. Carmichael picked up his first victory as a starter last Friday against Vanderbilt and gave Commodores southpaw Kevin Ziomek his first loss of the season. Carmichael permitted just one run and three hits over five innings in the Gators 7-1 victory over the former No. 2 team in the nation.
Taylor Gushue is looking for a good start out of Carmichael:
Starting on the bump for the Rebels will be junior right-hander Bobby Wahl (6-0, 1.67). Ole Miss head coach Mike Bianco talks about his Friday night ace:
In 37.2 innings, Wahl has permitted just 7 earned runs, walked 17, and leads the team with 36 strikeouts.  He holds opponents to a .201 batting average and his 6-0 record is tied for best in the SEC. In Wahl's last outing, he tied a career-long eight innings pitched and struck out nine in the series opener for an 8-2 victory over No.24 Texas A&M. Despite Wahl's victory in his last opener, the Rebels were defeated in the final two games of the series, giving the Aggies it's second SEC series victory.
Taylor Gushue says that Wahl is just another pitcher:
Florida's tentative lineup is as follows: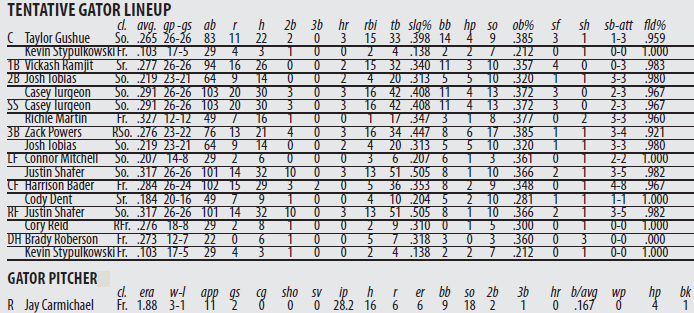 If you can't make it out to the diamond, you can catch all the action right here on ESPN Radio 850/900, starting at 6:55 with first pitch set for 7:00 pm while Saturday and Sunday's games will both begin at 1pm.
For on-the-go action, make sure you download our app for iPhone!