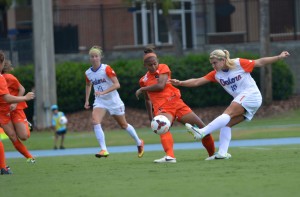 Florida soccer arguably got over its biggest hump thus far in the college soccer season after defeating then-SEC leader Texas A&M Sunday. Now, UF controls its own destiny in its quest for the SEC regular season title.
If Florida defeats Georgia Thursday, it will clinch at least a share of the SEC championship and it owns a tiebreaker over Texas A&M thanks to a 2-0 victory last Sunday, marking the first time that the Gators took down the Aggies in Gainesville. Florida head coach Becky Burleigh says even though UF got the W, it came down to adjustments the Orange and Blue made in the second half.
A key to UF's six match winning streak has been a stout defense. Florida has not given up a single goal during the streak, and Burleigh talked glowingly about not only goalkeeper Taylor Burke, but also about one of Florida's quiet-on-the-scoresheet yet extremely reliable defenders, Karina Gutsche.
Burleigh on Gutsche
Burleigh on Burke
Georgia boasts a 7-3 home record and has an offense led by a two-headed monster of an attack, led by Marion Crowder and Madeline Barker. Crowder leads the team in points with 23 and Barker is not far behind with 17. Georgia also has a class goalkeeper in Florida native Caitlin Woody; her goals against average for the season is just under 1 per game. Burleigh says this squad is not to be taken lightly.
Kick off in Athens, Florida's final scheduled match is Thursday at 6:30. After that, The SEC tournament begins on November 4th.