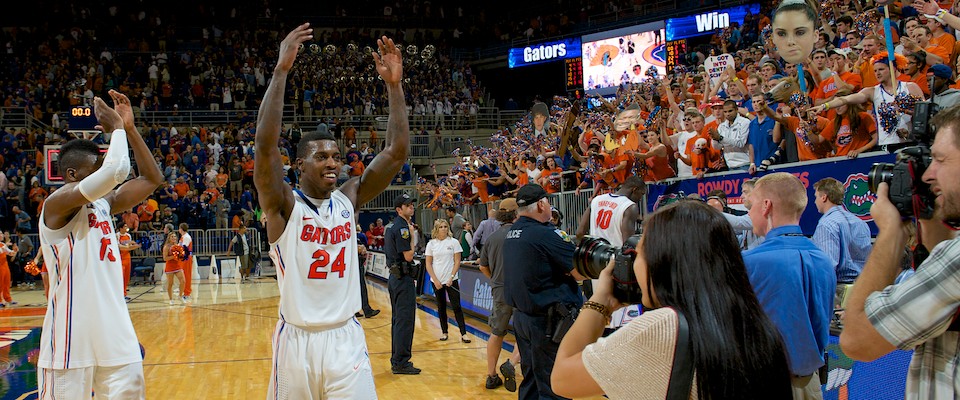 Florida's Casey Prather has scored double digits in every game he's played in this season.
To the outside sports fan, the University of Florida has a few rivalries: Florida State, maybe Miami, and Georgia. But to those who call themselves fans of the Gators, they know there is another: Tennessee.
The conference rivalry between the Volunteers and Gators runs deep, but in the 125th meeting between these two programs, the Florida men's basketball team was able to best Tennessee 67-41 Saturday in Gainesville.
Just like a match up between these two teams tends to be, the game itself was more than just another win.
In terms of numbers, Florida advanced its streak of consecutive wins at home to 26, and also extended its overall winning streak (11 straight games) and SEC winning streak (6-0) in the process.
The term "numbers never lie" doesn't completely apply to this game. Though the Volunteers were held to just 15-for-56 shooting and 1-for-19 from 3-point range, the game truly was 40 minutes of battle.
Florida's defense stole the show once again which resulted in the stats above. The Gator defense achieved a defensive efficiency rating of 0.6 (which is an average determined by total points divided by total possessions for the opposing team).
When asked if such a defensive performance comes as a surprise to the team, Florida guard Michael Frazier II (who led the team with 17 points) said they put in work every day for such a result to not be a surprise.
"I think we're a very competitive team and we work hard every day in practice, so I'm not surprised at all," Frazier said. "We work hard every day, so this is what we want every day."
The O'Connell Center put on a promotion this weekend trying to get over 25,000 fans into the O'Dome between gymnastics, men's basketball, women's basketball and swimming & diving. After Saturday's game, their total is already over 20,000 with the women's game yet to come tomorrow afternoon.
There were quite a few times this afternoon where the crowd fed into the players motivation. One of those plays involved an acrobatic save by Florida forward Dorian-Finney-Smith which lead to a Frazier 3-pointer. After the game, Finney-Smith said he felt like the ceiling could have blown off from the crowd noise.
"It was a great possession," Finney-Smith said while laughing. "Frazier hit the three, and it just felt like the roof was going to come off. We need energy like that."
As for Tennessee, the box score was not appealing. Star guard and one of the SEC's top scorers Jordan McRae was coming off a 34-point performance against Arkansas. This afternoon, he was left to just five points off 1-for-15 shooting. Vols forward Jarnell Stokes lead the team in points and rebounds with a double-double, 16 points and 10 boards.
Coming off a game Thursday, as well as a delayed flight which left the Gators in Alabama an extra night, some called this game a "trap game", but if Gator fans have learned anything about this team this season, it's that they have the mental toughness and leadership to make sure "trap games" don't exist on their schedule.
In the post-game, Florida head coach Billy Donovan said it's games like the one his team played this afternoon that make his roster better with time.
"We've had some really good games, really good battles. For me personally I like competing against them, (Tennessee) because we can always improve from a game like this," Donovan said.
This afternoon's result elevates the Gators to 6-0 in the conference and drops the Volunteers to 3-3. With Villanova's loss earlier this week, expect sixth ranked Florida to move up in the polls for the seventh week in a row come Monday.
UF will hit the road for their next game at Mississippi State this coming Thursday.
For audio on the quotes above, click here:
Michael Frazier on UF's defensive performance
Dorian Finney-Smith on momentum of the crowd