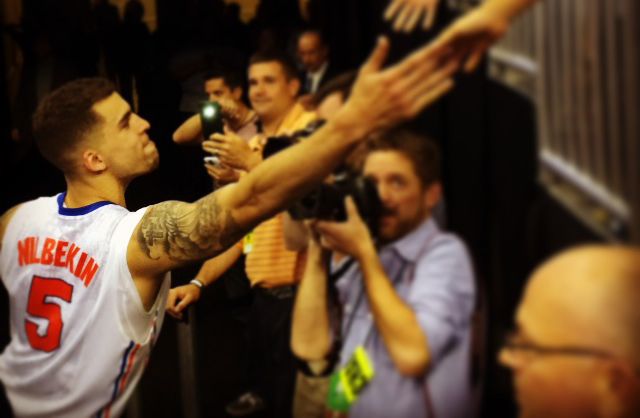 "How sweet it is, baby! How sweet it is!"
The Florida Gator men's basketball team seemed back to its old self on Saturday afternoon as they kicked off the third round of the NCAA Tournament with a double-digit win over 9-seed Pittsburgh, 61-45.
Florida may have been focused in their opening game versus Albany  — despite the close finish — but they weren't comfortable taking the chances Florida fans had seen them take all year; a style of play which propelled them to the No. 1 ranking. However, today Scottie Wilbekin took it upon himself to light that spark and play the Gator brand of basketball they needed to play to keep their dreams of Dallas and the Final Four alive.
The momentum was Florida's for 80 percent of the contest, but with the difference being just two points with seconds left in the first half, Wilbekin made his move. A buzzer-beater 3-point shot went up, in time and good for Florida to go into the half up 27-22 — for reference Pittsburgh scored 46 points at half in their second round matchup versus Colorado.
Pittsburgh came out of the half like they left it: dejected. The mood of the Panthers felt much different than what we saw two days before. Pitt's two leading scorers, Talib Zanna and Lamar Patterson, came into the game averaging 13 and 17 points per game respectively. On Saturday, Zanna was the only Panther scorer in double-digits with 10 and the two finished with a combined 18 points. When you consider Pitt finishing the game with just 45 points, you now understand how it happened.
Florida made it tough for Pittsburgh to breathe in their own space let alone move the ball around the court, holding the Panthers to just 37 percent shooting from the floor and 23 percent from beyond the arc.
As for the Gators, they were able to come out on top despite Michael Frazier's 3-point struggles; this time, it wasn't because of lack of looks, Frazier finished the game with 10 points, but 2-for-9 from beyond the arc. After the game Florida junior, Dorian Finney-Smith, said this team can hurt you in a different way every night.
"It just shows you how well-rounded our team is," Finney-Smith said. "When things aren't going in for me or Frazier, other people pick up the slack. Will played great; Pat played great; Kasey came off the bench playing good minutes. We're just a well-rounded team."
During the end of the SEC regular season and even into the SEC Tournament, Gator coach Billy Donovan was throwing a lot of make-shift line-ups into the game, subbing in players early and often. However in this game, Donovan seemed to let his star players ride it out with only seven players participating — for the most part (though Chris Walker did log two minutes in the first half.)
It was the kind of pick-me-up game Florida fans and even the Florida players themselves were glad to have going into the Sweet Sixteen. As for the advancing achievement itself, Florida senior, Patric Young, said it's not his goal.
"Well I'm not happy, I mean, I enjoy that we're here and that we have the opportunity to continue to play, but I'm not going to be happy or satisfied until we reach our goal," Young said. "I'm not going to say it's a failure if we fall short, but there's just so much potential in this team… that if we go out and play like we did against Albany and allow a team to take it from us, then we're cutting ourselves short."
In the end, it was Scottie Wilbekin that brought this team to its peak — as it has been so many times this year. Wilbekin had 21 points when it was all said and done, and ended the game scoring six of Florida's last eight field goals.
As for the peak of this team, Frazier II couldn't have said it better.
"Coach told us before the game, when people climb up mountains they have rest stops along the way. 80 percent of the people that go up mountains stop and go back down. He said, do you want to be the 80 percent, or do you want to be the 20 percent that keeps climbing… I think we showed that tonight," Frazier said.
Florida's next game will be in the Sweet 16 in Memphis, Tennessee next weekend.
For audio on the quotes above, click here:
Dorian Finney-Smith on the Gators' roster depth
Patric Young on the team's Ultimate Goal