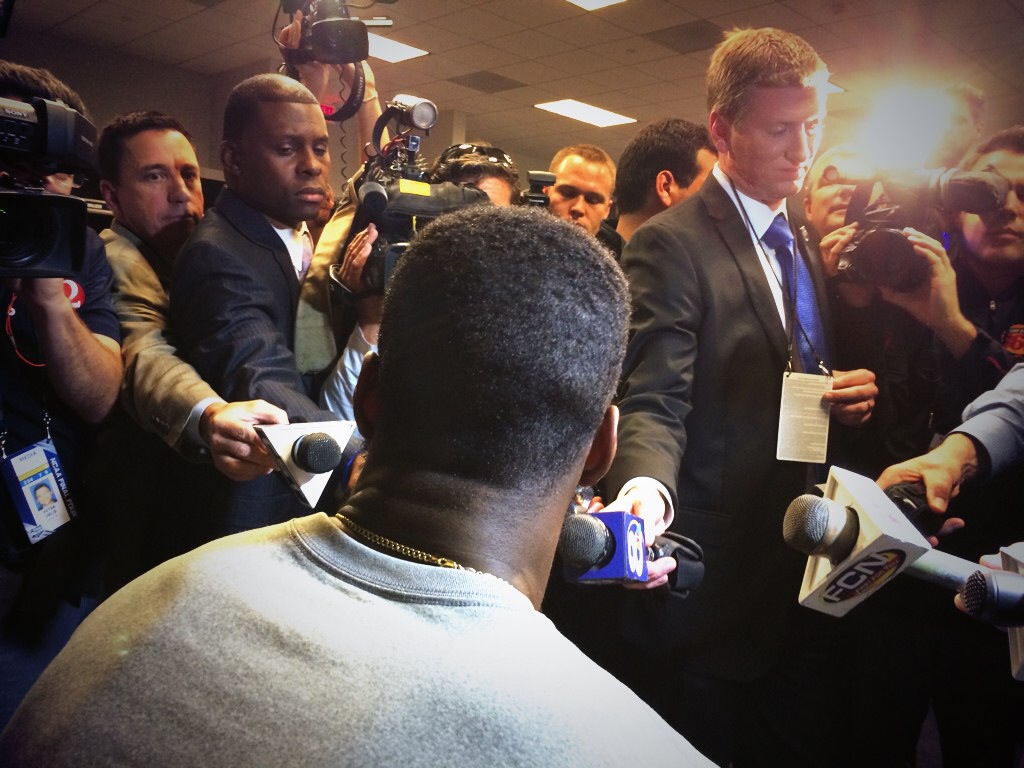 In Florida's locker room following its 63-53 Final Four loss to Uconn, a reporter asked senior guard Scottie Wilbekin, "This team hasn't lost in so long, did you even think you could lose?"
Saturday's Final Four matchup was a meeting between the Florida Gators, who were coming into the game on a 30-game winning streak and the team that last beat them before that streak began, the University of Connecticut Huskies.
Leading up to the game, Florida made its defensive plan clear: don't let Shabazz Napier beat you — with both his own scoring ability and his ability to get his teammates open looks. And in the end, it wasn't really Napier who beat Florida (he didn't score a point until 3:55 left in the first half); it was his supporting cast in a performance that was mandatory to prove they were worthy of beating the country's top team.
But it wasn't Florida's defense that let them down as the game progressed — Florida started the game winning 16-4 — it was their ability to create shots that weren't there; UConn could, Florida could not. Gators guard Michael Frazier II (who only was able to attempt three shots) talked about not being able to run their offense.
"That's the result of us not being able to run our offense and execute," Frazier said. "They were disruptive when they were guarding us, so it was hard to get the ball moving."
After the 16-4 start, UConn would go on a 21-6 run to end the half, starting with DeAndre Daniels hitting back-to-back 3-pointers (he ended the game with a team-high 20 points).
The first half would end 25-22 UConn and end on a bad last possession shot from Scottie Wilbekin, something Florida fans aren't used to as of late (see the SEC Championship game and the game versus Dayton).
But Florida was one of the best adjustment teams in the country this season, and if any team could turn the offense around, it was them; they didn't.
UConn started the second half on a 6-0 run, and at one point, the game became 37-27, UF's largest deficit of the tournament.
The Gators would fight back thanks to the efforts of Patric Young and Casey Prather, who ended the game with 19 and 15 points respectively, but the game never got closer than three points and when the final buzzer sounded, the team that had beaten every opponent they faced in the tournament by double digits had lost by double digits themselves.
"It's very hard because we haven't lost in a long time, and when you do lose… it's probably the worst feeling because you've won so much. All you want to do is keep it going, but it happens," Gators guard Kasey Hill said.
"Yeah, going inside is something that we should have utilized more with their big guys in foul trouble," Young said. "They came to me a lot more in the second half and I was able to finish and make the right plays, but it was a team effort. Everyone didn't have the game they wanted tonight. Their defense was so disruptive… the best team won tonight."
It's been a special run for this Florida team, a team with a senior class who made it to the Elite 8 every year it played and even making it to the Final Four this year.
"It hurt quite a bit because it's our last time playing together. Each one of us had to persevere to get to this point," Prather said. "(We) had to battle certain obstacles. We just wanted to have a shot at Monday."
For Scottie Wilbekin, Casey Prather, Will Yeguete and Patric Young, Saturday night was the last time they would put on a Gators jersey, a jersey they battled to own for four straight years.
"I think every coach sits up here and is so proud of their guys; I'm so proud of my guys. Me being proud of them is from a totally different perspective, because of me personally, I saw how dysfunctional we were in September… I got a chance to experience a lot of personal victories along the way off the court. Their body of work on the court people will evaluate or judge themselves, but for me, personally, where they were as individuals and where they were as a team to where they came from in terms of becoming a team, I mean, it was one of the most special experiences I've had being around a group of guys away from the court maybe since I've been coaching," Gators coach Billy Donovan said.
So, in the end, the Gators players knew they could lose, but the pain of losing a game was nothing compared to the thought of losing their last chance to play with one another. They lost that chance, but in the moment of their greatest pain, the seniors picked themselves up together and walked out of the building not as four seniors, but as four brothers.
For audio on the quotes above, click here:
Florida guard Michael Frazier II on the team's offensive struggles
Florida guard Kasey Hill on the pain of losing
Florida forward Patric Young on what his team could've done better
Florida forward Casey Prather on playing his last game at UF