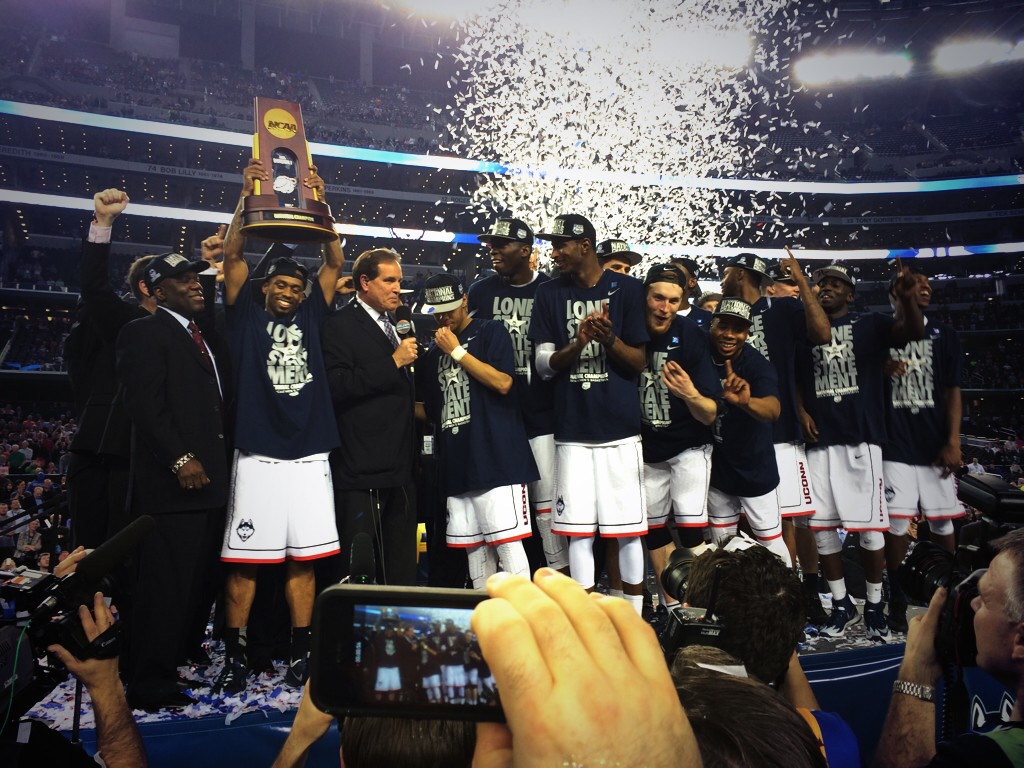 If St. Joseph would've made one more shot in regulation during the second round of the NCAA men's basketball tournament, none of this would've been possible — but, they didn't.
Instead, Connecticut's road to claiming its fourth national championship in program history came by defeating Villanova, Iowa State, Michigan State, Florida and finally Kentucky with a score of 60-54. This road was by far the toughest to a title and solidified the Huskies not as a Cinderella, but a proven program in the realm of college basketball.
"You believe something so much… man, these guys worked so hard," UConn guard Shabazz Napier said. " We've worked so hard and we just didn't want to lose it. Here we go; let's celebrate."
For Napier (a senior), it is his second national championship as a Huskie, winning one when he was a freshman. Napier scored over one third of his teams points, racking up 22 points to lead all scorers. But he wasn't the only Huskie winning his second national title; Niels Giffey was another and he talked about the mind set going into tonight's game.
"You know, we were talking about the possibility of losing this game and going back home as a runner up," Giffey said. "After a while we were saying, we shouldn't even talk about that."
For the rest of UConn's cast, Giffey scored 10, guard Ryan Boatright had 14 and forward DeAndre Daniels finished with eight points.
But for every winner there is a loser, and for the preseason No. 1 team (Kentucky), they were one game away from starting No. 1 and ending No. 1.
James Young was the high man for the Wildcats with 20 points; forward Julius Randle gave them 10 more, but those two were the only ones to score in double digits. Marcus Lee, a possible X-factor after Willie Cauley-Stein's injury only had six minutes and recorded zero points and zero rebounds.
Kentucky was down at half, but this is a team that has been down almost every game this tournament, only to storm back and get a win.  Kentucky coach John Calipari talked about how everything set up for them to do that again, it just didn't happen.
"We came out and scored, Ok here we go," Calipari said. "It's on… but they beat us to every 50-50 ball."
It was those one or two bounces that gave UConn the edge where Wichita State, Louisville, Michigan and Wisconsin couldn't make those happen.
After the game, second-year UConn head coach Kevin Ollie couldn't have deflected his praise any more. Right from the start, he gave the credit to the program, it's staff and their players.
"It feels great. Four national championships and to do this championship with these student athletes is amazing; they're amazing," Ollie said. "I keep telling you it started 18 months ago when they started believing and stayed loyal to the program. It's just a wonderful feeling to hold up that trophy and do it the right way. And I think we did it the right way for 18 months and through this whole NCAA tournament."
The Connecticut program was not even eligible for the NCAA Tournament last year because the program was not making enough progress in the Academic Progress Rate.
Today, they are national champions.
For audio on the quotes above, click here:
Shabazz Napier on being a leader for his team
Niels Giffey on the mindset going into the game
UK's head coach John Calipari on where his team lost it