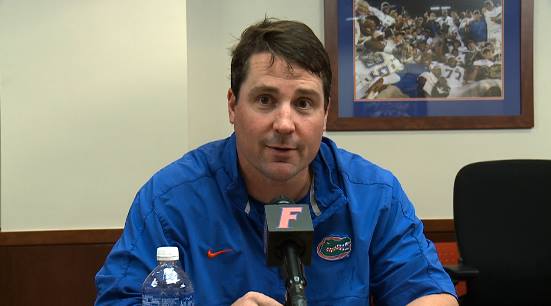 The Florida football team opened up its second week of fall camp on Monday, following their first scrimmage of the preseason. Gators head coach Will Muschamp updated the status of the team following Monday's practice.
The good news is that sophomore All-SEC cornerback Vernon Hargreaves III has been rehabilitating his bone bruise injury and is expected to return to practice either today or Wednesday according to Muschamp.
"Vernon ran on the non-gravity treadmill today, so he looks fine," Muschamp said. "We're thinking Tuesday or Wednesday he'll be back."
Meanwhile, numerous players sat out of Monday's practice to nurse minor naggering injuries from Sunday's scrimmage and the first week of fall camp. Running back Kelvin Taylor sustained a hamstring strain and is shooting to be back on the field by the end of the week. Matt Jones and wide receiver Andre Debose did not practice on Monday; both have some knee swelling but will most likely return on Tuesday or Wednesday. Defensive end Jonathan Bullard has an ankle injury and missed Monday's practice, but should return soon.
Defensive lineman Taven Bryan has strep throat and is day-to- day and freshman defensive tackle Thomas Holley will undergo surgery to relieve discomfort caused by scar tissue from a sports hernia he had in high school. Muschamp said that he is out indefinitely.
"Thomas, from the sports hernia he had in high school, he has some scar tissue built up," he said. "They are going to go in and shave that down. I don't know when the timeframe is for that. I want to say the surgery is Tuesday. We are trying to get him in today. That's not a major procedure. It's more like having a scope done. But he had some scar tissue that's built up and it's very discomforting when he ran. So he'll be out for some time. I don't know how much."
Although the Gators came out of Sunday's scrimmage with a few minor injuries, Muschamp said he was pleased with the squad's first scrimmage, and is a happy with where his team is heading into the second week of fall camp.
"We had about 80 to 85 scrimmage snaps Sunday. I thought was pretty good," he added. "We scrimmaged earlier than we ever have done before. I felt like we needed to get out and let the guys play a little bit – a new offense, let those guys make adjustments on the field, continue to work on being a good situational team. But I thought we got a lot of good things done in the scrimmage.
"I'm pretty pleased with where we are," Muschamp added. "We still are a work in progress behind Jeff. Those guys were alive yesterday – went against live rush, so we need to get better at getting rid of the football and taking care of the the ball. The ball security at that position was not very good, but I'm very pleased with our wideouts as far as playmaking ability. We need to continue to work on assignments. Pleased with our running back situation."
Muschamp also praised sophomore Keanu Neal and said he has distanced himself for a starting spot at safety.
"Keanu Neal right now's our best safety," Muschamp said.
While true freshmen Will Grier and Treon Harris, and sophomore Skyler Mornhinweg are vying for the back up quarterback position. Muschamp said he isn't certain when the decision will be made but would like to see more production from the three contenders.
"Behind Jeff at quarterback, we need to make strides, which we haven't," Muschamp said. "Not that the guys aren't working, not that we don't think we can be productive, but we need more production."
The Gators will hold another open practice Tuesday at 8:40 a.m. at Dizney Lacrosse Stadium. Offensive coordinator Kurt Roper is expected to meet with media at 11 a.m. and we will continue to bring you updates on ESPN 850 WRUF radio.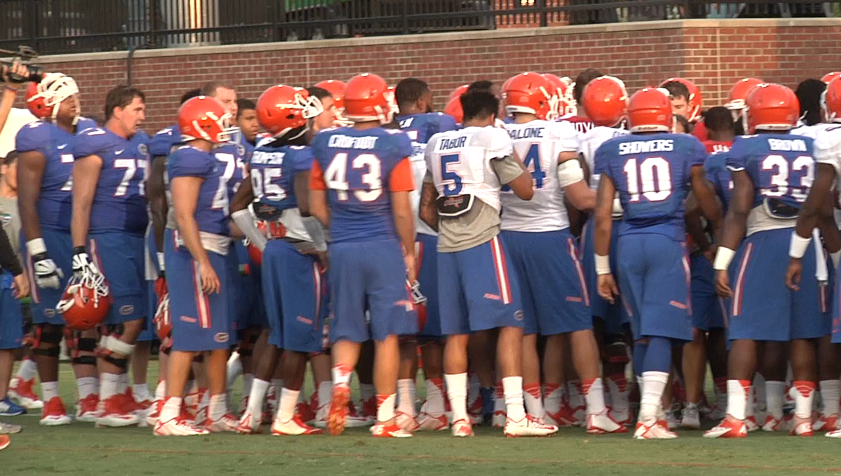 Muschamp on Sunday's scrimmage
Muschamp pleased with team's progress
Muschamp on competition for backup QB spot
Muschamp says Keanu Neal is the best safety