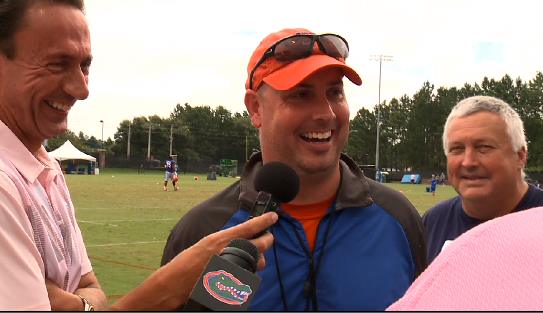 The second week of the Florida Football team's fall camp is underway, and the Gators are in full swing preparing for the 2014 season.
The big news is sophomore All-American cornerback Vernon Hargreaves III returned to practice in an orange non-contact jersey. Hargreaves did individual drills after suffering a minor bone bruise last week. Defensive end Jonathan Bullard who had a sprained ankle also returned to practice.
Meanwhile, first-year offensive coordinator Kurt Roper met with the media for the first time since spring camp. Roper talked about his new up-tempo shot-gun spread offense and how receptive the squad has been to the new changes.
"It's been really good, Roper said. "I think these guys are excited about playing football. It wouldn't matter who you rolled in here, when this time of season comes around everyone is excited. I hope they're enjoying the offense, I hope they're enjoying competing on the practice field, and I really think they're excited to start competing on Saturday's."
"We've got some really good football players," he added.  "So I think we have a good group that is working. I think they've got a really good understanding of what we're asking them to do."
Roper added that Jeff Driskel has unquestionably established himself as Florida's starting quarterback but the competition for the backup position is still in the mix. Sophomore Skylar Mornhinweg, and true freshmen Will Grier and Treon Harris are all vying for the spot. Grier and Harris where put in blue contact jerseys by coaches and were live in practice on Tuesday. After practice, Roper discussed how both players are progressing throughout fall camp.
"Will's got a pretty good command of the offense, managing the line of scrimmage and getting everybody on the same page and has great communication," Roper said. "I think Treon is being pretty decisive right now. Where they are different is in size, and there is a difference in top-end speed. But both of them are quick and both of them can throw the football."
While Driskel's backup is still unknown, Roper hopes to have a decision sometime soon.
"We'll have to make decisions here pretty soon and start trying to get more reps that way," Roper said. "I still think we're in a competitive situation."
Roper added that he is ecstatic to be Florida's new offensive coordinator and excited to unveil his new offensive scheme this fall. He's pleased with the offense's overall progress and more importantly, he's happy to develop great relationships with the team.
"What I've learned is that is what a great part of this is, Roper said. "That's been the part that I've enjoyed the most. You develop relationships through a lot of shared experiences, and now that I've been here for eight months, there's a lot of shared experiences with these guys."
"I see a lot talent – I see guys that are working hard that want to be good," Roper added.
And it's witnessing that inner drive and motivation, all the intangible things – that make him love his job that much more.
Florida's next open practice will be held Wednesday at 8:45 a.m. at Dizney Lacrosse Stadium.
Kurt Roper on Grier and Harris
Kurt Roper on forming bonds with players