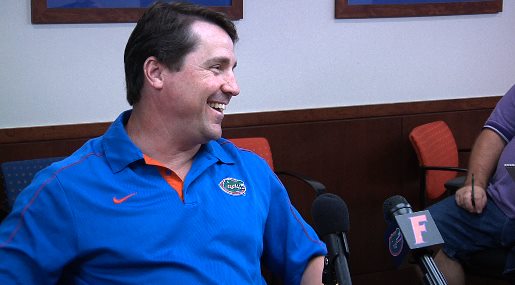 The Florida Football team is wrapping up fall training camp and with the season opener against Idaho less than two weeks away, the Gators still have some very important decisions to be made. Gator head coach Will Muschamp discussed the team's injuries, position battles, and more following Monday's practice.
Florida will conclude preseason camp on Wednesday, and the coaches are still in the process of evaluating the players and finalizing the squad's depth chart in preparation for the season. One of the most critical decisions is finding a back-up to junior starting quarterback Jeff Driskel. True Freshmen Treon Harris and Will Grier who have been sharing reps with the second team offense are both in competition and vying for the backup role.  Muschamp said that he is not ready to make the decision just yet. He's waiting for one of the player's to emerge and win the back up spot.
"Right now, really no separation at quarterback behind Jeff," he said. "We'll continue to work throughout the week. We don't have a definite timetable on that right now. Just after watching the film on Saturday there was some good and bad. We'll continue to work through that."
"Very close," Muschamp said of the backup QB competition. " I think that there's been a lot of positives, but I feel like sometimes we take two steps forward and one step back. As far as getting rid of the football, we've tried to narrow down the package with all of those guys, not do as much as we're doing with Jeff."
Muschamp added that he doesn't want to enter the season with a rotation of quarterbacks filling the backup role. Ideally, he would like the freshman that doesn't win the backup position (either Grier or Harris) to be redshirted.
Some other heated battles are between junior Brian Poole, freshmen J.C. Jackson, Jalen Tabor, and Quincy Wilson who are in the mix for the cornerback spot opposite Vernon Hargreaves III. Meanwhile, freshman Duke Dawson, senior Jabari Gorman, and redshirt freshman Marcell Harris are battling for the safety position alongside Keanu Neal.
Muschamp said there are still a lot of unanswered questions in terms of the team's depth chart, but he hopes to get answers within the coming days. But in order to do this, he would like to see more consistency from his squad.
"Got some guys who have done some decent things, we just have to be more consistent," he added. "Our coaches need to get off the field and let the players play. That's what we're going to do more of moving forward."
Meanwhile, sophomore defensive back Marcus Maye sustained a minor hamstring injury during Friday's scrimmage and will most likely not see any action until next Monday. True freshman offensive tackle David Sharpe has a high ankle sprain and is also expected to miss practices this week, while senior offensive lineman Trenton Brown sat out of Monday's practice due to a foot contusion but should return sometime this week. Defensive tackle Thomas Holley underwent season-ending surgery on Monday to repair a labral tear – stemming from a sports hernia that he suffered in high school.  According to Muschamp, Holley will redshirt this season and the recovery is expected to take about four months.
"He had a sports hernia in high school. Had it repaired before he came here," Muschamp said. "That's where we thought his discomfort was. On the initial physical, we found a labral tear on his hip and impingement on his hip."
"He just had some discomfort in running and changing direction," he added.  "Our medical people did an outstanding job of finding it. I'm disappointed for Thomas, a guy who certainly athletically we're very excited about."
Overall, Muschamp is pleased with the squad's progress throughout fall camp. He said a lot of that progress is due to the team's strong bond and connection – both on and off the field.
"This group gets along really well," Muschamp said. "That's the one thing that you really notice about them quickly. They get along well, they practice well with each other, and they compete hard.  I've been extremely impressed with the locker room and how those things have progressed very well."
"They're the kind of team you feel really good about."
The Gators will wrap up the final two days of training camp this week and then continue to prepare for their August 30th season opener against Idaho at Ben Hill Griffin Stadium.
Muschamp on Sharpe and Maye injuries
Muschamp on backup QB position
Muschamp on Thomas Holley injury
Muschamp on Thomas Holley injury 2