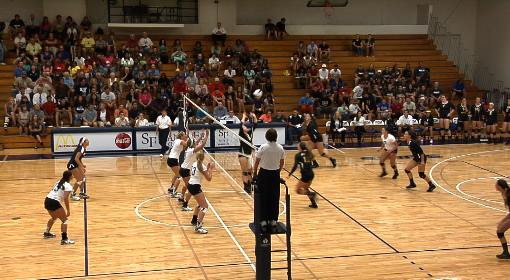 History was made last night – right here in Gainesville, Florida.
The Santa Fe College Saints defeated the Pasco Hernando State College Conquistadors in a five game match in the program's first ever volleyball game in front of 800 supporters at the Santa Fe College Gym. Saints head coach Nick Cheronis, who was also the assistant to Gator volleyball coach Mary Wise for 18 years, said he's extremely happy with his squad's performance and is proud of Santa Fe's VERY first win.
"It doesn't matter if it's the first game or the last game," Cheronis said. "Getting the win feels pretty darn good. I'm very happy with the team's performance; I think their effort was outstanding. I thought a couple of times Pasco Hernando did a great job challenging us and we responded."
"It was a pretty nervous environment and a pretty nervous atmosphere to start out with. We knew we were going to have our hands full with Pasco Hernando. They're very well coached and have really great players. So we're very happy with the win."
Cheronis added that he's thrilled to start the new era off on the right foot winning  (25-23, 23-25, 25-16, 24-26, 15-8) at the Santa Fe Gym and is looking forward to what the future has in store.
"I'm so happy that so many people came out to watch our first ever match," Cheronis said. "I'm starting to get comments about people watching it live online so I'm hoping we start building something pretty exciting here."
"We've got some things to iron out,"  he added. "Obviously it's just one match and we have about 35 more to go so we can't get to high over this one, but right now we're going to enjoy the moment and enjoy the fact that it was our very first game and we got a win out of it."
Up next, the Saints will battle Eastern Florida State College at 12 PM prior to taking on Pensacola State at 2 PM Friday afternoon at the Marriot Classic in Jacksonville.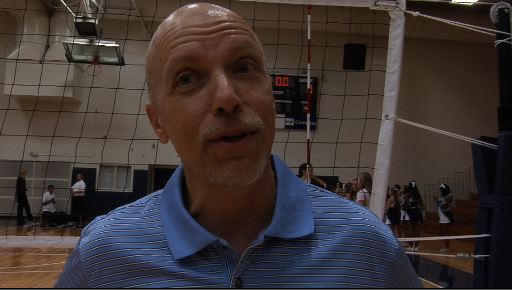 For audio on the above quotes, click below:
Cheronis on team's performance