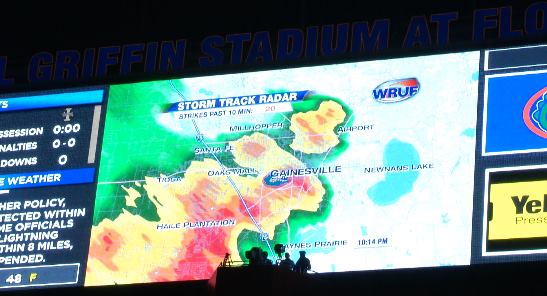 "The Swamp" lived up to its name tonight. Florida and Idaho were delayed by rain and lightning for two hours and 48 minutes before the opening kickoff.
By the time Idaho kicker Austin Rehkow booted the ball it was 9:50 p.m. For the soaked students and fans that did stay, they were treated to an exciting opening play. Junior Valdez Showers fielded a short kickoff on the left side of the field, then cut back to his right with nothing but wet grass in front of him. Showers returned it 64 yards to the Vandals' 14-yard line, before being 'showered' by a huge puddle on the sidelines.
The Gators new high speed up-tempo offense was set to go to work. That's when the officials announced that lightning had struck in the eight mile radius, resulting in a 30 minute delay at minimum. At approximately 10:40pm, the game was officially "suspended due to weather and unsafe and unplayable field conditions" after the athletic directors, officials and the SEC met concerning the subject.
Florida head coach Will Muschamp released a statement following the game.
"We appreciate the fans coming out and supporting us and sitting through several weather delays," Muschamp said. "It was amazing the energy and passion shown in the stands all night. The Gator Nation showed why they're the best fans in the country, starting with one of the most enthusiastic Gator Walks that we've had since I've been here."
According to the NCAA rule book, when a game is suspended, there are four possible options.   Resume the game at a later date, terminate the game with a determined final score, forfeit the game or declare a no contest.   The athletic directors from both schools, in consultation with the coaches, must agree on one of the above options.
If the game is resumed, it will be resumed with the same time remaining and under identical conditions of down, distance, player eligibility and field position.
Three Gator players were suspended for the opener; wide receiver Demarcus Robinson and defensive tackles Jay-nard Bostwick and Darius Cummings.
There has been no word on whether the game will be rescheduled. Stay tuned to ESPN850 WRUF for more updates.