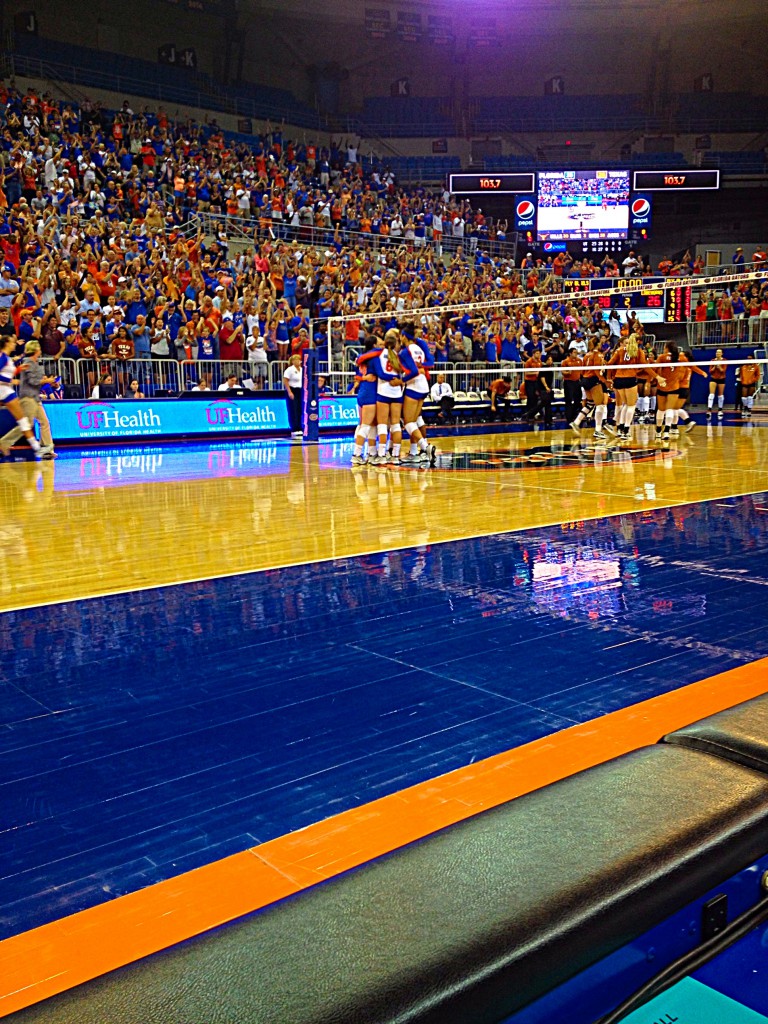 Freshman Carli Snyder and junior Noami Santos-Lamb both posted career-best performances against the Texas volleyball squad, but the third ranked Longhorns edged the 11th ranked Florida Gators 3-1 (16-25, 28-26, 17-25, 16-25) Saturday night in front of a Stephen C. O'Connell Center crowd of 4,845 in the first of two meetings between the two teams this season. Florida will wrap up its regular-season slate November 29 in Austin with the second Gators/Longhorns tilt of the campaign.
Snyder registered a career-best 18 kills to lead Florida (3-2) and turned in a .324 hitting efficiency against Texas (4-0), while Santos-Lamb made it three consecutive matches with double-digit kills, including a career-best 14 Saturday. Another freshman in middle blocker in Rhamat Alhassan paced the Gators with a .417 clip (7-2-12) and had three roofs to lead UF for the fifth straight match in blocks. It was Texas' 16 blocks as a team, compared to Florida's five that had the Gators off balance.
In addition to Snyder (18.5) and Santos-Lamb (14), sophomore All-American right side Alex Holston (10.5) put up a double-digit point performance with nine kills, a service ace and a block assist.
Gator coach Mary Wise was quick to look at the loss as a strong learning experience for her squad.
"The takeaway from the match is to play against an elite blocking team and learn what a game-changer that is," Wise said. "Great experiences for our young players and they rose to the challenge — Rhamat (Alhassan) and Carli (Snyder), especially. Our goal right now is just to narrow the gap that existed tonight when we play Texas again in November."
The Orange and Blue now hit the road to the West Coast for a Thursday date with 15th ranked San Diego, followed by a meeting with number six Southern California in Trojan territory for the USC Classic.
The San Diego matchup is scheduled for 8 p.m. Thursday; while the USC matchup is slated for 10:30 p.m. Friday. You'll be able to catch both matches on ESPN 850 WRUF.
For postgame comments from coach Wise, as well as Noami Santos-Lamb, click here:
Wise talks about Texas' blocking
Wise discusses the performances of Alhassan and Snyder
Wise talks about new starters facing difficult competition
Santos-Lamb discusses facing tough competition early in the season