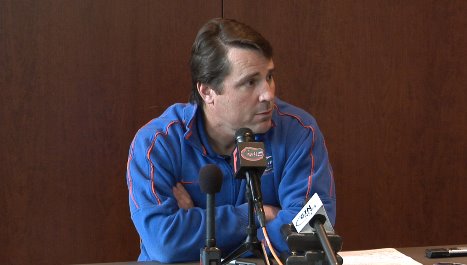 The Florida Gator football team is in the midst of its bye week and in full swing preparing for their next SEC opponent. Last week, the Gators fell to the Crimson Tide 42-21 picking up their first loss of the season. Gator coach Will Muschamp discussed areas the team needs to improve on as well as preparations for their next conference game as the Gators are set to take on East Division rival Tennessee on October 4th.
Florida's starting quarterback Jeff Driskel completed 9 of 28 passes for 93 yards, with a touchdown and two interceptions against the Tide. The Gators struggled in all aspects of the game and it was arguably the worst game of Driskel's college career but despite his poor performance, the fourth-year redshirt junior will remain the starting quarterback.
"Jeff needs to play better and I think he'll be the first to tell you that," Muschamp said. "Treon continues to improve and continues to do some nice things. Game by game we would like to give him more opportunities and some snaps – depending on the situation of the game. But Jeff gives us the best opportunity to win right now."
Muschamp added that there will, however, be changes on the defensive side of the ball. He wasn't pleased with the way the secondary gave up numerous plays against the Tide and says changes will be made.
"Extremely disappointed; two games in a row of giving up the big plays we gave up defensively. We've got to get better on the back end and we need to execute better offensively. We had some opportunities in the game and didn't get that done. Third down on both sides of the ball is just horrible and the worst we've been."
"We're looking at a lot of different guys in different spots," UF's head coach added. "We can't continue to do the same things. The mistakes we've made in some situations back there are inexcusable. It's on me. We'll get it fixed; we're going to work through it. Haven't been through this before very often, I can tell you that. It's extremely frustrating."
Besides sophomore All-American cornerback Vernon Hargreaves III, no defensive back has shown enough consistency to secure a starting job. Muschamp says defensively, a lot of position's are up for grabs and the coaching staff will be evaluating the squad in the coming days.
"I think it always helps when you have competition at a position because a guy that knows he's going out there every day battling for his job, it's the human condition of understanding, 'I've got to go out there and play well,' as well as other guys thinking that they've just got the job."
"You're always trying to heighten that. Now some guys are self-starters, so it doesn't matter. They're going to go out and work hard every single day, but in most situations, not all, guys need somebody to be pushing them more."
Freshmen Quincy Wilson, Jalen Tabor and Duke Dawson will all see more opportunities in the secondary, but Muschamp emphasized his hesitations on rotating so many underclassmen this early in the season.
"The issue with young players, and I've been doing this a long time – is in order to gain confidence, they've got to practice well," he said. "They've got to practice well on Monday but then they practice again well on Tuesday, Wednesday and Thursday. And what happens to you as a coach is a guy that's never been out in front of 90,000 people, he goes out and has five busted assignments in critical situations in a Tuesday practice, what's he going do in front of 90,000 people? But the flip side of that is what you're doing is not working so you might as well try somebody else and that's where I am right now."
As for injuries, junior offensive lineman D.J. Humphries is expected to return to the field after suffering a high ankle sprain during Florida's season opener. Junior running back Mark Herndon will be out for the rest of the season due to an ACL injury he sustained during Florida's match up against the Crimson Tide. Meanwhile, defensive tackle Leon Orr is questionable for Tennessee due to a small tear in his meniscus. Freshman running back Brandon Powell has a tweaked hamstring and will be out for a few days.
Despite a lot of lingering questions and improvements to be made; Muschamp and his squad have put the loss behind them. There's there's still a lot of football to be played – and the road to redemption begins today.
"Everybody gets frustrated. They want to win them all and so do I. That's what we're working to do. I think we have a very good football team. We didn't play that way or coach that way on Saturday, and that falls on my shoulders to get fixed. And that's what I plan on doing."
"We need to work on Florida – and that's what I'm focused on right now."
The Gators will travel to Knoxville October 4th to take on the Volunteers. Kick off is set for 12 PM.
For audio on the above quotes, click below: 
Muschamp on Driskel and Harris
Squad is frustrated and ready to win games