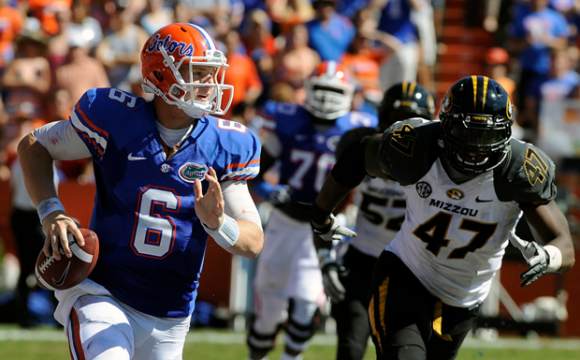 Courtesy www.betphoenix.ag
The Florida (3-2, 2-2 SEC) football team is coming off its toughest loss of the season, losing to LSU 30-27 on a last second field goal. Now the Gators host Missouri (4-2, 1-1 SEC) for their Homecoming game and need a win to keep their SEC East hopes alive.
The Gators and Tigers are meeting for just the fourth time and today marks their second clash at Ben Hill Griffin Stadium. Last week, Mizzou was shutout at home by Georgia 34-0. In that game, Tiger quarterback Maty Mauk had five turnovers, but Florida defensive coordinator D.J. Durkin says he's a great player.
"He's extremely dangerous; he can create plays on his feet. He threw the ball rolling out to his left for 70 yards down the field against Georgia. When you have a guy that can do that, it definitely opens your eyes."
Not only does Mauk have a strong arm, but he also is a threat to run. Durkin knows it will be imperative for the Gator defense to contain him in the pocket.
"It's very important, because once he gets out of the pocket; now your defense starts to break down and then he has a run pass option and you have to stay in coverage because he's not just a scrambler. He can throw the ball too and he throws it on the run. When he scrambles, he's still looking down the field to throw it. So, we need to contain him, keep him in the pocket; and we also have to stay in coverage down the field when he does scramble."
Missouri ranks 11th in the SEC in rushing and passing offense, but Tigers radio play-by-play man, Howard Richards, thinks the running backs for Mizzou have the capability to burst for big runs at anytime.
"Russell Hansbrough, Marcus Murphy, those two guys know how to get it done. If that offensive line can get together and give them any creases or any daylight, either of those guys can exploit those little seams or holes, and go the distance."
Over on the defensive side of the ball, the Tigers defense lost a few players who were drafted to the NFL, but Richards thinks the defensive ends on this year's team have stepped up.
"I felt and still feel that Missouri's starting defensive ends, Shane Ray and Markus Golden, are a better starting pair than last year's starting pair of Michael Sam and Kony Ealy. They're more active, I think the up-side is better for these guys. Ray and Golden can both play against the run and they're very good pass-rushers. Very instinctive players. I think they're going to get better even this year."
The Gators have had terrible production from their receiving corps. The only player that has over 200 yards receiving is Demarcus Robinson, who has 476 yards. On the other hand, Missouri has three receivers that are over 200 yards receiving. Florida offensive coordinator Kurt Roper thinks the receivers are maybe trying too hard.
"They're like anybody else they don't want to let anybody else down. They don't want to let the other guys down on the team. I don't see it as a lack of concentration. I see it as trying not to make a mistake, and it maybe leads to that."
Meanwhile, injury wise, Gator defensive tackle Leon Orr will be back on the field as well as sophomore All-American cornerback Vernon Hargreaves III.  
Florida's next four opponents are all in the SEC East, and center Max Garcia says head coach Will Muschamp stressed just how important this stretch is for the Gators.
"He told us we have four games to get us to the SEC Championship. Four very winnable games if we go out there and do what we're supposed to and what we're capable of doing. He put that in perspective for us. We have what we want right in front of us. So if we go out there and approach it the right way, one game at a time, we'll be where we want to be."
The Gators will get the chance to start their four game win streak later tonight. Kickoff for the Homecoming game against Missouri is set for 7 pm. Be sure to tune into ESPN 850 WRUF for pregame coverage starting at 3 pm.
For audio of the above quotes, click below:
Durkin on the need to contain Mauk in the pocket
Richards on Missouri's running backs
Richards on Missouri's starting defensive ends
Roper on the receivers' not wanting to let anybody down
Garcia on winning the next four games