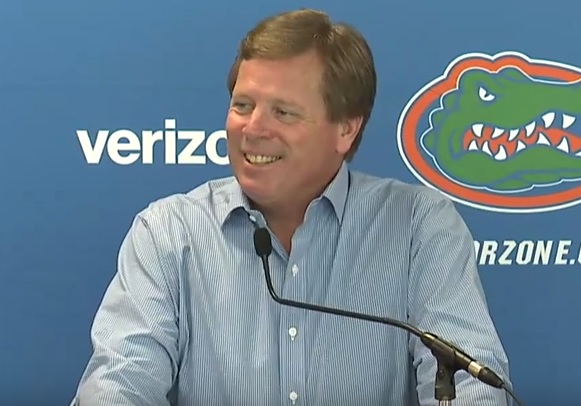 The University of Florida football team remains undefeated after the Gators pummel the Ole Miss Rebels 38-10 on Saturday.  Monday, Florida head coach Jim McElwain says how proud he is of the way his team performed.
"Well, guys, what a night in the Swamp. It was something pretty special. The way our guys played was the way they practiced. I was really happy to see that. It was as good a defensive performance as I've probably ever been around, especially knowing who we were playing and their big play capability."
The Orange and Blue had a 25-0 lead at halftime and although the team had a strong offensive performance Coach Mac says they still have room for improvement.
"Offensively, you know, we're starting to do some things. We still have so far to go. We were on edge on a lot of runs. I thought we had an opportunity to hit some big ones and not sure our mike identification was right every time. We need to clean that up. However, their line movements, our guys handled it pretty well. And I think we didn't allow some of their dominant players to kind of take over the game on that side of the ball."
After a very physical SEC match up against the Rebels, Coach McElwain says his team didn't get too beat up.
"Other than general nicks and bruises and stuff coming out of a physical SEC game like that, we're actually in pretty good shape. Ahmad Fulwood will be no contact. Landed back on that arm of his; C'yontai (Lewis) we're somewhere between 25 and 50 percent heal ratio on his hand. They did shorten, or soften, the cast a little bit but not enough to play. That will be in evaluation Wednesday morning to see where he's at. We'd love to get him back, obviously."
"Got a couple guys still got a little bit of that flu stuff but it seems like it may be running its course. We had our shots last Monday actually, it was scheduled before this even occurred. Hopefully we're able to nip that before it becomes another issue moving forward. That's about it."
The Gators are now 5-0 as they prepare to face Missouri on the road this weekend. Mizzou has won the SEC East for the last two years and has a team stacked with talent. According to McElwain, he has a lot of respect for coach Gary Pinkel and his program.  McElwain says Pinkel learned a lot from legendary coach Don James.
"We tried to emulate a lot of things that coach James did in those 11 years or whatever it was coaching at Eastern because, let's face it, they were one of the kings of college football at that time. He learned from one of the best. Obviously, he and coach Saban were together under that, so I'm sure there were a lot of similarities in how they go about their daily business, and it shows up on film. You know, at the end, they're a little bit under the radar. No one has knocked them off. It'll be really interesting to see how our guys approach this week, what they learned from the past, to see how we approach this opportunity on Saturday."
The Gators jumped up 14 spots from number 25 to number 11 in the AP Top 25 poll this week. tied for the third highest jump in the poll's history and the biggest jump in the school's history.
Jim McElwain is often heard saying "restore the order" and it seems to be rubbing off on his players as they say the slogan as well. McElwain says "restoring the order" is about getting back to the roots of the program.
"The order for a long time there were the Gators. We were right up there at the top of the order. Yet, for some reason, the order has been skewed. It's because other teams are getting really good now — and because this is a team that's taking advantage of that; the team we're playing. I like at it a little bit as a responsibility. But you have to be mature enough to handle the responsibility. That's what's interesting to me. I'm really looking forward — really looking forward — to this week's practice. I'm looking forward to looking them in the eye at today's meetings and getting an idea exactly where they're at in restoring order…"
The Florida Gators will be traveling to Columbia Missouri to take on the Mizzou Tigers Saturday; kickoff from Memorial Stadium at Faurot Field is set for 7:30PM.
For full audio of the above quotes see below:
McElwain on performance against Ole Miss
McElwain on restoring the order