The Gator volleyball team swept the Mississippi State Bulldogs Friday afternoon, but it did not come easy.  Florida won 3-0 over MSU by scores of  25-18, 27-25, and 25-18.  After the victory, Florida middle blocker Rhamat Alhassan says having their eighth sweep in nine consecutive wins still requires the team to work on mistakes they made.
"Obviously getting wins helps build confidence…and we just hope we keep it up.  Keep going back like what do we need to work on?  Alright, we won this match, but what still needs to happen?"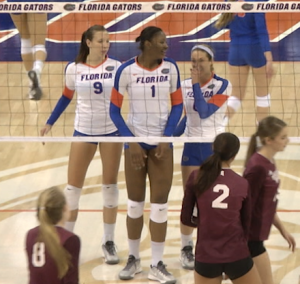 During the match, Alhassan totaled for 15 kills.  Florida is now 10-3 in SEC play and 18-4 overall.  Florida right side hitter Alex Holston says it was tough taking down a fast MSU.
"They were just throwing everything at us….They have a really quick offense and that's something that we've been struggling with, but we're trying to adjust every match.  So, yeah they just came out tough and it was really nice to see us give all-out effort in that match."
Holston also totaled for 15 kills during the game to help her team.  Florida head coach Mary Wise says the Gators didn't step up defensively in the match.
"A low-error team, well-coached, running an incredibly fast offense.  We really struggled defensively; the numbers in the second set are indicative of that.  We just weren't capable of making plays; felt very fortunate to win the second set.  And the separation in the third set didn't happen until we started digging some balls."
Wise thought the Gators became too focused on offense and lost touch in the back row.
"Sometimes we get a little too offensive focused and you're not going to go one for one," she said.  "Eventually you've got to score points off the serve and it wasn't until Nikki O'Rourke's service run late that we were capable of doing that."
Florida libero Nikki O'Rourke had 18 digs in the match and three service aces.  The Gators will travel to Auburn this Sunday to take on the Tigers.  First serve is set for 2:30 PM and live coverage begins here at 2:20 PM.