For the first time in three years the ACC championship trophy will be in the hands of someone other than Florida State. The no. 1 Clemson Tigers (12-0) are looking to stay as the unbeaten top team, while the No. 10 North Carolina Tar heels (11-1) are looking for an upset. The last time the Tigers won the ACC championship was in 2011, with a win over Virginia Tech. For UNC, it has been 35 years since the Tar Heels claimed the title, years before there was even an ACC championship game.
Clemson is looking to complete their first undefeated season since 1981, the year they were crowned National Champions. Clemson Head Coach Dabo Swinney says it's been 34 years since the Tigers has been 12-0 and they may not always play perfect but find ways to win. Keeping their record spotless will solidify the Tigers top spot in the playoffs.
UNC is on an 11 game winning streak since losing their opening game to the South Carolina Gamecocks. The Tar Heels scored 35 points in the first quarter of last weekends game against NC State and their offense has been impressive all season. With half of their 36 rushing touchdowns being scored in the past four games, the Tar Heels are going to need to keep running the ball to beat a solid Clemson defense. UNC's defense also needs to take advantage of the multiple turnovers Clemson has had this season.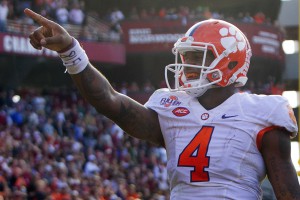 Clemson quarterback Deshaun Watson is ranked third in pass completion and was named the ACC player of the year. If Watson continues to excel, the UNC defense may have trouble with the Tiger's offense.
Clemson cannot take North Carolina lightly. Swinney says UNC is a championship team that could beat any one in the country, but so could the Tigers. This might be one of the most exciting conference championship games being played this weekend between two top 10 teams.
Kick off for the ACC Conference Championship game is 8pm at Bank of America Stadium in Charlotte, NC.