After a long season and expectations of Ohio State predicted to reach the conference title championship, it has now come down to the Iowa Hawkeyes and Michigan State Spartans.  With Iowa's spotless record (8-0) in the Big Ten, the Hawkeyes will face the Spartans (7-1) this Saturday in Indianapolis.
The Hawkeyes have won a school-record of 12 games this season after their performance in 2014 (7-6).  After solidifying it's first undefeated regular season since 1922, Iowa will look to be just the third team in Big Ten history to start the season 13-0; first Minnesota in 1904 and then Ohio State in 2002.  In terms of game-play, Iowa's strengths lie on both sides of the ball.  The defense has the most interceptions this season in the Big 10 with 17 picks; tied 8th in the NCAA with the University of Connecticut.  With defensive back Desmond King, the Iowa defense will be a huge challenge for the Michigan State receivers.  King has eight interceptions on the year and was named the Big Ten's defensive back of the year.  On the offensive side, quarterback C.J. Beathard has proven to be an effective passer with 2,354 yards and 14 touchdowns (three INTs).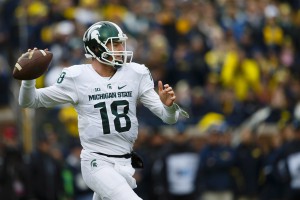 Michigan State has strengths of their own.  Offensively, the Spartans will be incredibly hard to defend with quarterback Connor Cook at the helm, who has already been highly favored in many NFL draft discussions.  He has thrown for 2,730 yards and 24 touchdowns on the season so far with only four interceptions.  Cook says the team takes it one step at a time and while it's great to celebrate their advancing to the conference title, it's time to move on and focus on Saturday.
Alongside Cook, Aaron Burbridge is the Big Ten's wide receiver of the year who has 1,158 yards and seven touchdowns thus far.  With some defensive muscle of their own, Michigan State's linebacker Riley Bullough has posted more than 90 tackles, four-plus sacks, and two interceptions this season.
Between Iowa's elite defense and Michigan State's ability to win in fourth quarters, 13 since 2010, this game will be a challenge for both teams.  Kick off for the Big Ten Championship is Saturday at 8:00 PM.