GLENDALE, Ariz.– Monday night, as the confetti showered in the University of Phoenix Stadium, Alabama stood victorious over Clemson, 45-40.
The College Football Playoffs ended with the Crimson Tide rolling in yet another National Title to add to their long resume. In the last seven seasons, Alabama has earned four National Titles.
After 12 days of consuming the hype of this match-up between Alabama and Clemson, the game absolutely lived up to and surpassed everyone's expectations. Alabama struck first in a fashion we are all familiar with. 2015's Heisman Trophy winner, Derrick Henry, seemed like he was running with a 50-yard tide to give to Alabama a 7-0 early lead over Clemson. Henry made it a memorable night with a total of three rushing touchdowns for 158 yards.
Derrick may have accumulated three touchdowns, but Clemson's defense stood tall and dominated Alabama's offensive line. It seemed as if the Tigers were in the hunt to stop the Crimson Tide's one-dimensional game plan they had all season. Alabama's Derrick Henry is known for running all over opponent's defense, however Clemson showed why they entered this game has the only remaining undefeated team.
Clemson's Dabo-Deshaun Duo kept Alabama and all of America on their toes, all night. Head coach, Dabo Swinney brings the swagger and charisma to the table while quarterback, Deshaun Watson serves it up with an incredible football IQ and Tiger-like mobility. Once the Tiger's defense forced the Crimson Tide to go three-and-out, the Tigers' offense seemed to have all the answers for Alabama. With their up-tempo offense, Clemson forced Alabama defend against something they hadn't all season. Heisman runner-up, Deshaun Watson dodged Alabama's defense for the majority of the night while throwing 30-for-47 with a total of 407 yards.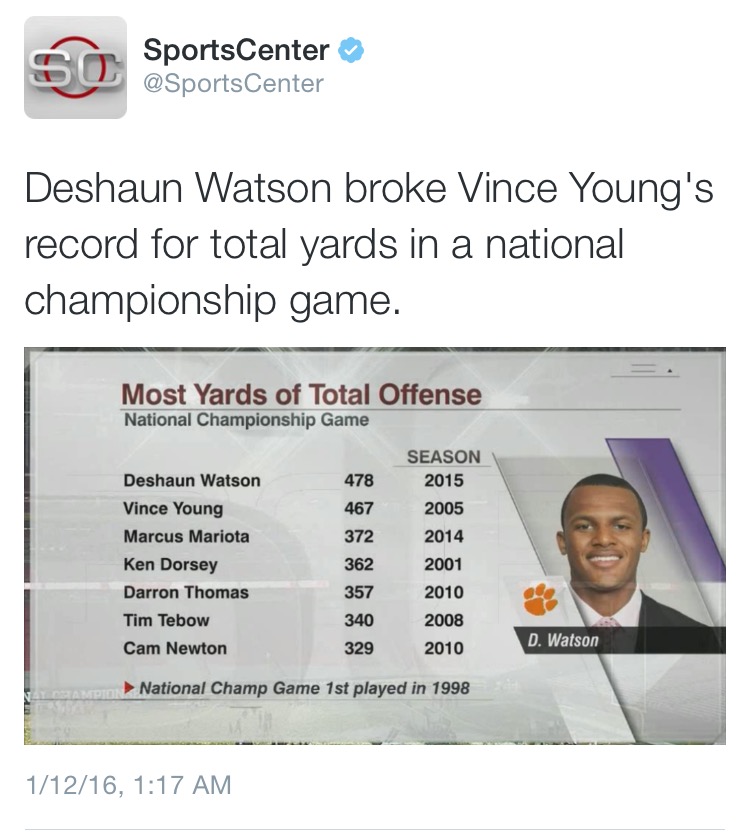 The talk of the night was Alabama's special teams. You could say it was something… special. In the fourth quarter, the Crimson Tide sideline jumped up and down as Kenyon Drake rushed passed them returning a kick-off for 95 yards and rolling into the end-zone. If that wasn't enough for a momentum change, Alabama recovering an onside kick definitely gave them the edge to overcome Clemson.
Alabama's quarterback, Jake Coker, completed 16 of his 25 passes and Alabama had a total of 473 yards compared to Clemson's 550 yards.
Alabama lost the statistics battle, but in the end, the Crimson Tide held up and admired the College Football Playoff National Championship trophy. The mood of pride and honor was set as the hardware was passed around and kissed by players. Alabama's tight-end, O.J. Howard was the man wearing the right gloves, with the right hands, at the right times. Howard tallied up two touchdowns off of five catches, with 208 total receiving yards. Deservingly so, O.J. Howard was awarded with the Offensive Player of the Game.
Clemson definitely proved that they deserved to be playing for a National Title and we could absolutely see them in the near future, on the same stage, but it was Alabama Crimson Tide's night to to ride the wave and come out on top.
Alabama's head coach, Nick Saban, now accompanies Bear Bryant as the only two coaches, in history, to have won at least five National Championships in the poll era. After this win, Saban earned his 100th win as Alabama's head coach.
Nick Saban's legacy grows: • 5 national titles • Unbeaten in national championship games • 100 wins at Alabama pic.twitter.com/NDDRnXOI6O

— SportsCenter (@SportsCenter) January 12, 2016
Since 2007, eight Southeastern Conference teams have won the National Championship game.