The NFL divisional playoff round kicks off tomorrow from Foxborough, where the New England Patriots will play host to the Kansas City Chiefs.
In the midst of this AFC matchup, Patriot receivers Rob Gronkowski and Julian Edelman are both listed as questionable. Patriots Pro Bowl defensive end Chandler Jones was hospitalized last Sunday after ingesting synthetic marijuana.
Despite Jones' ordeal, he participated in practice all week and is expected to play. Jones says the incident was a stupid mistake and he plans to focus on Kansas City.
Patriots head coach Bill Belichick says the health of his players and staff is the most important part of his job, so it's yet to be seen if Jones' snaps will be limited.
One aspect of this game is certain, Kansas City will look to pressure Tom Brady all evening. Brady has only thrown seven interceptions this season, despite racking up over 4,700 passing yards and adding 36 touchdowns.
Brady's performance will depend on New England's injury-riddled offensive line.  Look for Belichick to compensate with quick passes and timely play action calls. Kansas City will need to create turnovers if they expect to advance in the playoffs.
Once Kansas City controls possession, Alex Smith will need to play smart football and spread the ball around to multiple receivers. Smith is coming off of one of his best regular season performances and Belichick will gameplan accordingly to limit the Chiefs' passing game.
Kansas City is also suffering from injuries, as Smith's best receiver, Jeremy Maclin, remains questionable.
However, the Chiefs should have plenty of confidence after a huge 30-0 Wild Card victory on the road against Houston.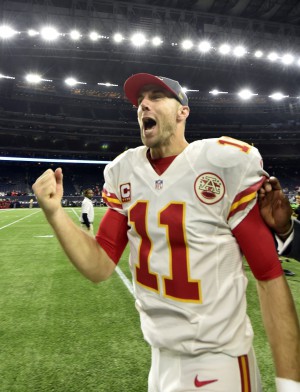 Chiefs head coach Andy Reid is very familiar with Belichick and he's prepared his offense for a battle.
Despite winning 11 straight games, Kansas City TE Travis Kelce knows that beating the defending Super Bowl champions at home will be a challenge. 
This game will come down to who plays through the pain and commits the fewest turnovers.
These teams last met in 2014 and the Chiefs dominated at home, winning 41-14.
Kickoff from Gillette Stadium is set for 4:35 p.m.