She, at the age of 22, was named head coach of the University of Tennessee women's basketball team in 1974. She holds an overall record of 1,098-208 and an overall conference record of 458-69.
She's collected 16 SEC Tournament Titles and 16 SEC Championships. To add to that ginormous stack, she has 8 NCAA Titles.
You could say she's a professional at cutting down nets.
She has also become quite familiar with Coach of the Year awards. Eight, is the number of times she's been awarded by the SEC. Seven, is the number of times she's been awarded by the NCAA. Year 2000 was a millennia milestone when she earned the Naismith Coach of the Century award.
"SHE" is Pat Summitt.
Pat spent FOUR decades as the head coach of the Lady Volunteers and to reiterate, she has 1,098 wins under her belt. Time sure does fly by when you're winning, but she was and is so much more than winning statistics and awards.
In 2011, Pat, at the age of 59, publically addressed a new game plan that the sports' world will never forget. The game plan was for a tough opponent she was about to face in early-onset dementia, "Alzheimer Type."
It was only right that one year later, she was given a permanent title as the Lady Volunteer's Head Coach Emeritus.
Most people know the saying, "raising the bar," but when speaking about Pat Summitt, she raised the rim. Year after year she raised the rim and set the goal to a measurement that will never be reached.
Summitt impacted so many lives and the game of women's basketball that NCAA women's basketball teams, all over the country, take the time to honor her in "We Back Pat" games. These games are meant to bring awareness to the Alzheimer's disease. The SEC took it step further and now holds annual weeklong "We Back Pat" games to show support for Pat Summitt's battle against the disease.
Speaking of the SEC, Florida's head coach, Amanda Butler, opened up and got emotional when asked about Pat Summitt. She says Pat is continuing to have an impact on us while going through something that would leave us defeated.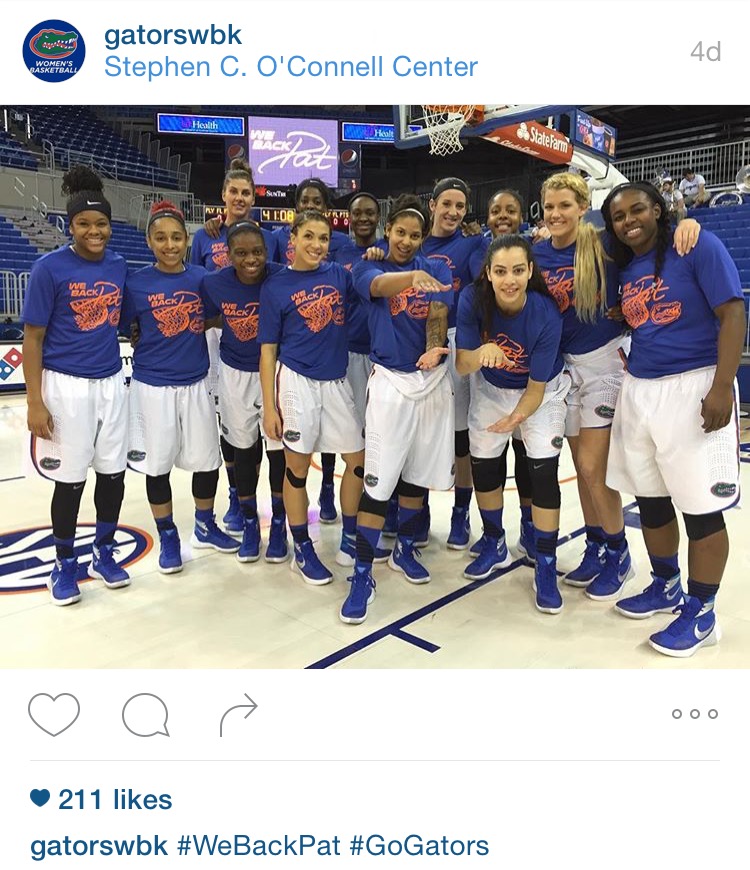 Amanda Butler, also a Tennessean, has competed against the Lady Volunteers coached by Pat Summitt and also has coached against Pat Summitt.
Amanda Butler says Pat is simply just a fantastic person. 
She's intensely fierce, the definition of strength, a competitor, family-oriented, a blue-eyed woman in Tennessee orange and white, a game-changer, a legendary coach, she is women's basketball.
Everyone has volunteered to root for Pat to rock this disease and end up on top.
"We Back Pat" may be the name of games held in honor of Pat Summit, but it's also a declaration for on and off the court.