Florida Softball (6-0) has been dominant to start the season, opening up undefeated, and outscoring opponents by a margin of 54-1. The Gators are coming off of a doubleheader sweep vs. Jacksonville, in which the pitching duo of Aleshia Ocasio and Kelly Barnhill combined for 16 strikeouts and only one hit allowed. Florida head coach Tim Walton described the Gators' stellar pitching performance and defense as a whole.
On Friday, Florida will kick off the Diamond 9 Citrus Classic with match-ups against UAB at 3:30 p.m., followed by a game vs. Stephen F. Austin at 5:45 p.m. While the Gators' offense is only averaging nine runs per game, their defense and pitching has been stellar. The team's one run allowed through the first six games is their best start to the season since 2009. in which they allowed one run in their first eight games. Florida pitcher Aleshia Ocasio credited the team's defense for their strong start thus far and previewed the team's upcoming tournament in her home area of Orlando.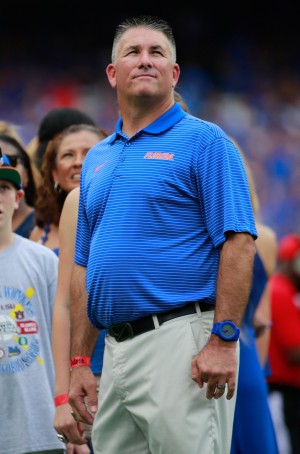 Outfielder Taylor Lorenz has been stellar to start the season, batting .533 in 15 at-bats. Lorenz has driven in nine runs thus far off of eight hits and two doubles. The rookie is one of only three players currently batting above .500. While Lorenz has shown success as a freshman, senior Taylore Fuller has been one of the leaders of the team this year, batting .538 through the first six games, with five RBI's. Fuller was a member of both of the Gators' back-to-back national championship teams.
The matchup between UAB and Florida will be the first time the two teams have met since 2012. Junior JoJo Fallen leads the Blazers' bats, hitting .438 with a .526 on-base percentage. Madison Hir is the team's leading pitcher, with a 2.47 ERA in just over 11 games. The Blazers are 3-13 all time in the Diamond 9 Citrus Classic.
For Stephen F. Austin, the Ladyjacks have only one player hitting above .400 in outfielder Lindsay Campbell. Campbell is batting exactly .400, with one stolen and two RBI's on the season. SFA's top pitcher comes in Brittany Lewis, who has a 2-0 record to start the season with a 4:0 strikeout-to-walk ratio. Lewis is also the team's best power hitter, with the Ladyjacks' only homerun of the season and a team-leading .688 slugging percentage.
BROADCAST INFORMATION: Both games can be heard live on WGGG-AM, but only Florida's game vs. UAB can be seen with live video. UAB-Florida will be broadcast on the SEC Network.