Mississippi State Men's basketball team is heading to Nashville, Tennessee for the SEC Tournament.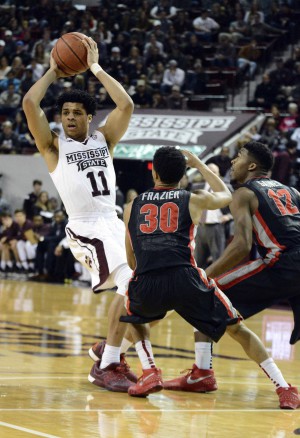 The Bulldogs are 14-16 overall, 7-11 in the SEC, and will be playing Georgia on Thursday to get a chance to play against South Carolina in the quarterfinals on Friday.
Mississippi State is coming off a win against Auburn 79-66, after a lost against in-state rival Ole Miss.
During the game, freshmen Malik Newman and Quinndary Weatherspoon combined for 33 points. Newman scored 14 points during the first half of the game and Weatherspoon contributed 16 points with six rebounds.
Assistant Coach Ernie Zeigler speaks on behalf of Head Coach Ben Howland on how their team is playing.
The Georgia Bulldogs are 17-12 overall, 10-8 in the SEC, and are currently ranked seventh in the conference. They are coming off a win against Alabama after a two consecutive wins over Ole Miss and South Carolina. Leading scorers for the team are junior J.J. Frazier with 16.4 points per game and four rebounds per game.
Tip off is at 9:25 p.m. on the SEC Network.