An NIT let down? The Gators answered that question early in Tuesday night's 97-68 victory over North Florida in Jacksonville.
Two days after learning their NIT fate and playing amid the reality of all their home games being played on the road due to the renovations at the O'Connell Center, the Gators pushed to an early 20 point lead and took care of business from there.
#Gators beat UNF, 97-68. Florida plays Ohio State in the 2nd round of NIT on Sunday at 12 on ESPN. #GoGators pic.twitter.com/FNpQ68rys6

— GatorsCenter (@GatorsSC) March 16, 2016
Dorian Finney-Smith led the Gators with 15 points, supported by 14 points from Kasey Hill.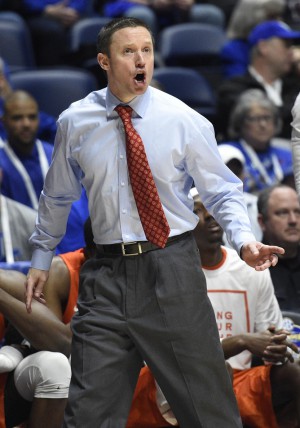 The Gators led 57-25 at halftime, going wild from beyond the arc, not exactly a strong point for this team for most of th season.   The Gators shot 12 of 18 on three-pointers in the first half.  To put those figures into perspective, Florida three times this season scored fewer than 57 points in a game. In addition, the Gators converted more than 12 three-pointers in a game only once this season, when they had 15 in their second game, against North Carolina A&T.
The Ospreys matched the Gators' pace to start the game, but it was Florida who opened up hot from beyond the arc. UF knocked down four of their first six three-pointers to take a 19-11 lead after the first seven minutes of the first half.
A 13-5 run would give the Gators' some cushion, putting them up 32-17 with 7:30 left in the first frame. Florida made 11 of their first 22 shots.
Florida's three-point barrage continued and it took a 57-25 lead into halftime.  Kasey Hill and KeVaughn Allen led Florida in first half scoring with 12 points apiece, combining to go 9 of 16 from the floor.
The Ospreys opened up the second half on an 8-2 run, pulling within 27 of the Gators. Florida went 0-3 from downtown to start the second half.  North Florida continued its surge, diminishing Florida's lead to only 20 points with just over seven minutes left in the contest.
But Florida would again pull away to seal the win.  Florida next plays Sunday at noon at Ohio State, an overtime winner over Akron in its first round NIT game on Tuesday.