Denver Broncos' outside linebacker and former Florida Gator alum Lerentee McCray was honored and recognized at the Marion County Commission as not just a Super Bowl Champion, but a local football star.
Lerentee was born and raised in Ocala, Fla. Lerentee attended Dunnellon High school, where he was coached by Frank Beasley. McCray was a standout two-way player for the Tigers and played in multiple positions like wide receiver, linebacker and special teams to name a few. His most productive seasons with the Tigers were his junior and senior seasons. In his junior year, Lerentee amassed 11 sacks and 97 tackles. The following season as a senior, McCray averaged 17 tackles per game and he would end is high school career that season with 118 tackles and nine sacks, while rushing for over 500 yards and scoring 11 touchdowns. He was four-star prospect and rated No. 10 outside linebacker nationally by Rivals. McCray was also included into the ESPN 150 class and ranked No. 6 outside linebacker.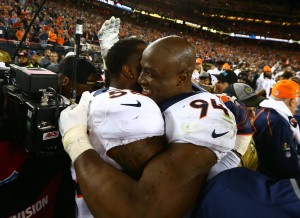 He switched from Miami to Florida and this is what he had to said when I asked him about attending the University of Florida.
In his first season with the Gators in 2008, the team won the BCS National Championship against Oklahoma 24-14. He and former running back Jeff Demps were great friends and roommates during his playing career 
He played in 8 games and recorded 5 tackles during freshman year in 2008. His best playing years as a Gator were his junior and senior years just like when he played back at high school, which prepared him for the NFL. Throughout his football career at the University of Florida, where he appeared in 42 games for the Gators and tallied 65 tackles including an interception and three forced fumbles.
Both coaches played roles in McCray's life as Frank Beasley was his high school coach and Urban Meyer was his college coach. 
McCray joined the Broncos as a undrafted free agent on April 27, 2013.  He has been with the Broncos ever since joining the NFL. Playing at UF helped him to get to the next level and the talent on the Broncos' roster is deep and he can learn a few things from them.
McCray is the first known Marion County athlete to participate in and win an NFL Super Bowl Game.
Demarcus Ware and Peyton Manning are some of the leaders of the team and McCray hopes to learn from them and how they played the game. 
He has been in 2 Super Bowls as he as lost and won one now. The one he lost was Super Bowl 48 against the Seattle Seahawks, they won 43 to 8 against the Denver Broncos. This was a reason that fueled the team and McCay to get back to the Super Bowl again and win it this time. 
That was Super Bowl 50, in which he played outside linebacker for the Denver Broncos, who won the game 24-10 against the Carolina Panthers.
He also mentioned and spoke about how well the team did and the alums of the previous teams have beening waiting for a long time and Coach McElwain has done well and needs to continue the progression.