Gator softball is set to start a three game series with a double header at 1 p.m. Saturday in Gainesville against Louisiana at Lafayette. The Gators are coming off of a sweep of Ole Miss in which they outscored the Rebels 18-3 over the three games. The Ragin Cajuns' enter the series at 32-3 with a seven game winning streak, leading to their No. 4 national ranking. The Gators enter play with a 38-3 record and are looking to defend their No. 1 overall national ranking in the country.
The Gators will turn to their three aces to lead the way in the circle. Kelly Barnhill, Aleshia Ocasio and Delanie Gourley look to continue their incredible seasons as they have combined to post a minuscule 0.85 ERA in 264 innings to go along with 347 strikeouts. Their dominance has been a major factor all season in the Gators' ability to stifle opponents in their efforts to keep up with the team's high powered offense.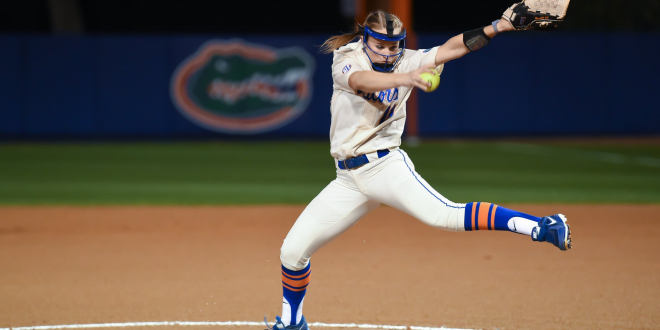 The Ragin Cajuns' have plenty of offensive firepower with eight players hitting over .300 and a whopping four players with more than 10 home runs. The Cajuns' are led offensively by Lexie Elkins, the first overall pick in Thursday's National Pro Fastball draft. Elkins leads all of Division I softball in batting average, slugging percentage, and is second in on-base percentage. In all, Elkins has hit .538 with 17 home runs and 41 RBI. The Louisiana at Lafayette lineup also features other stars like sophomore Aleah Craighton, who is tied with fellow sophomore DJ Sanders for second on the team with 13 home runs. The sophomore duo has provided plenty of backup to the best offensive player in the country in Lexie Elkins.
To take pressure off of their pitchers, the Gator bats will have to provide plenty of support.  While the Gators do not have the same power potential Louisiana at Lafayette has, the Gators are still very hard to get out. The team has eight starters entering play with on-base percentages over .400 and four players hitting over .330. Amanda Lorenz will have to continue the way, as her .410 batting average and 48 hits lead the team so far for the Gators.