Jordan Williams of Micanopy, Florida and Trevarris Saulsberry of Hawthorne, Florida have known each other since the third grade. What started out as an elementary school friendship while playing basketball turned into a brotherhood of football.
The two outstanding defensive linemen developed their skills together starting with Pop Warner football, continuing on to middle school JV football at P.K Yonge, and then transferring to Gainesville High School to play prep ball. Though Saulsberry made the move a year earlier than Williams, Williams would be quick to follow after seeing Saulsberry and others getting letters from recruits.  So the second semester of his junior year he found himself on the Hurricanes' field.
From there the two started looking into colleges and both were prospects being named three-star defensive linemen recruits from ESPN, Scout, and Rivals.
At first, Williams was set on going to Oregon and playing for the Ducks but realized after talking with his Mom being on the complete opposite side of the country was not what he really needed. So  Williams visited Tennessee and fell in love.
Later that year both Williams and Saulsberry signed at the University of Tennessee together.
There the two had very different experiences; Saulsberry redshirted his freshman year but come his sophomore year was a powerhouse but injury after injury cut his playing time in half. Willams was always a backup, working hard to be better every day but more often then not getting overlooked until his senior year where he started all 13 games he played in.
After the 2014 season and their senior year, Williams decided it was time to graduate and start training for the NFL. However, Saulsberry stuck around Knoxville and looked to play his final year of college eligibility, however that dream came to an end when once again he was injured in training camp and had to be carried off the field.
Williams said that he never thought he would be playing in the NFL but not too long after graduation was picked up by New York Jets and was getting ready to start his career as a professional athlete.
After his final injury, Saulsberry took his fifth year to assist the coaching staff and get healthy. Saulsberry said that coaching made him understand and love the game more than ever.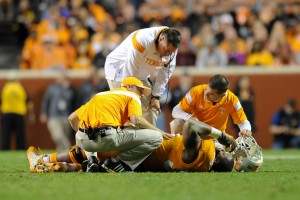 Recently Williams was picked up by the Miami Dolphins and is back in Florida.
Saulsberry recently took part in the NFL Pro Day at Tennessee and when asked if his knee was doing better he responded saying he'd just been cleared by the Miami Dolphins team doctor.
Both Williams and Saulsberry say they would love to play together again and that may be a possibility after the way Saulsberry performed at Pro Day, at 6'6″ and 300 pounds Saulsberry ran a 5.02 40, a 4.7 shuttle and had 25 reps at 225 on the bench.
The story of best friends playing together from third grade all the way into college is remarkable. Only the future will tell if the dynamic duo will be back together again.