The first couple of days off fall camp were tackled last week. With camp comes the curiosity of unsettled business from the previous season, and people want to how and when it will be settled.
There's no question that Gator fans and spectators are very curious about certain positions on the Florida roster, especially the quarterback situation. However, there's one position SEC fans, Gator fans, and average spectators are not necessarily curious about because, well—there's no reason to.
Defense is no stranger to the SEC and the Florida Gators have always helped support that statement.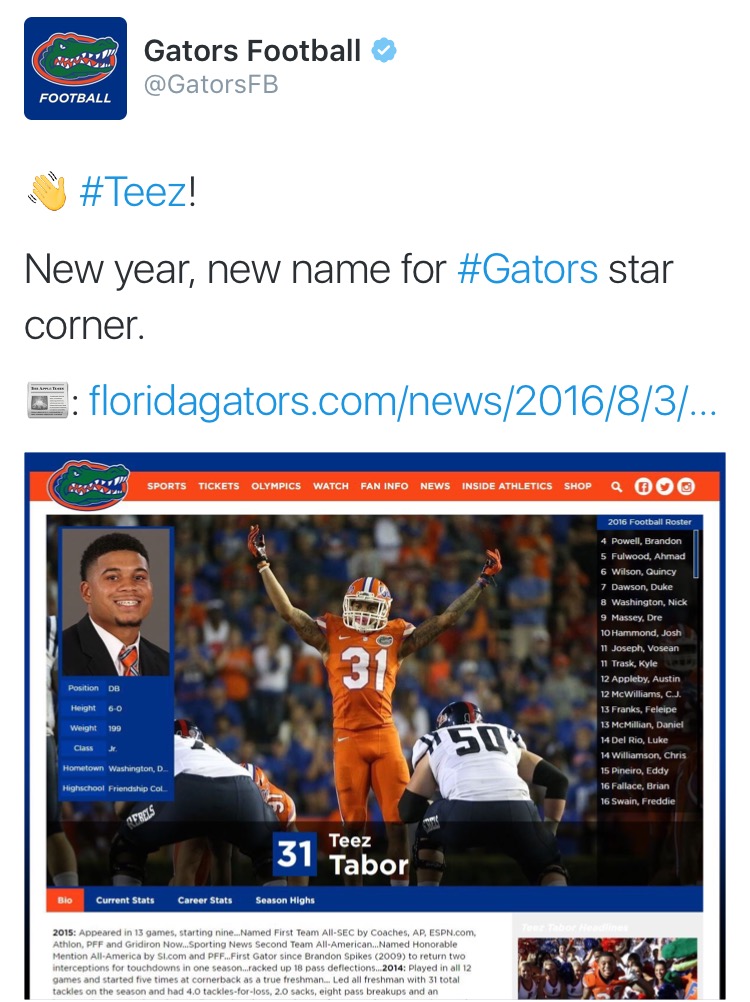 Florida's secondary is shining in the backfield with a number of experienced defensive backs they have returning. Two DBs that may sound familiar are Jalen "Teez" Tabor and Marcus Maye. These two have been crucial to the Gators' secondary in past seasons. What's different about upcoming seasons' secondary from last season? These two playmakers will be without Vernon Hargreaves III, who was drafted in the first round of the 2016 NFL Draft, by the Tampa Bay Buccaneers.
The absence of Hargreaves III will be missed, but it won't be too noticeable.
The senior Maye and junior Tabor have been making some noise during the offseason as "impactful players to watch" after the 2016 season kicks off. Don't be surprised when these two have the crowd making noise after they intercept or deflect a ball, don't be surprised if they fire up their defense with noise and demanding a momentum shift, and don't be surprised by all of the noise you hear about these two being potential NFL stars.
Those aren't the only defensive backs the Gators have to offer. Future opposing' offenses are going to have to be aware of Florida's secondary even when they send a freshman out there.
Chauncey Gardner is a big time Gators' early-enrollee and is expected to have an early impact on the Gator defense. Other notable newcomers would be Jaewon Taylor, Quincy Lenton, and C.J. McWilliamson. 
There's also Quincy Wilson, Duke Dawson, and Nick Washington who were under coach McElwain last season and will serve as veteran Gators on the field come September.
Florida's offense is still a hot topic and a point of concern to spectators, but on a defensive perspective, Quincy Wilson thinks there's no need to worry about the offense.
The word around The Swamp is everyone is helping other become better. Offense is helping the defense and the defense is helping the offense—It's a new season.
Still curious about the defensive backs game-plan? The season's kick off is set for Massachusetts as the opponents on September 3 at 7:30 p.m.