Following Thursday's two-a-days, Gator football head coach Jim McElwain says Florida's practice performance was simply "unacceptable."
Friday, the Gators are focused on moving forward, and they'll do so by holding a scrimmage. Coach Mac referred to Friday's practice as a "moving day", explaining that younger players will have the opportunity to earn their spots on Florida's roster.
Gator QB Luke Del Rio says the full contact scrimmage will be refreshing as younger players look to prove themselves.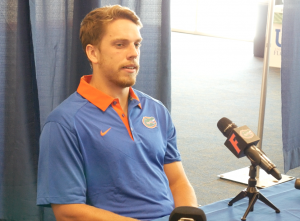 The Gators have adopted a "Next Man Up" mentality since McElwain took over last season, requiring depth at every position and providing veterans with a constant reminder that their starting jobs are conditional.
McElwain says some players have let outside distractions prevent them from "winning the now", and anyone who doesn't work hard everyday will find themselves on the bench—replaced by Gators who want to play.
When asked to comment on Jalen "Teez" Tabor's jabs at Tennessee during a Paul Finebaum Show interview, Coach Mac defended his star cornerback's confidence.
McElwain says all of his athletes go about their business a different way, and Tabor's words mean nothing because his actions speak so loudly.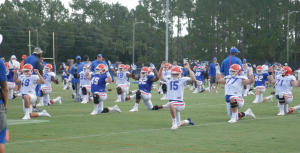 According to Tabor, Florida is playing with a chip on their shoulder because Tennessee is favored to win the SEC East. The junior also says his trash-talking isn't meant to offend other teams.
More than anything, Tabor's talking is a helpful way to hype himself up on the field.
As we look towards the start of this season, Coach McElwain says he intends on determining starters after next Friday's scrimmage. With four different competitors vying for vacancies at both quarterback and tailback, it will be interesting to see how the Gators balance their unique offensive depth.
https://twitter.com/GatorsFB/status/764161068612673536