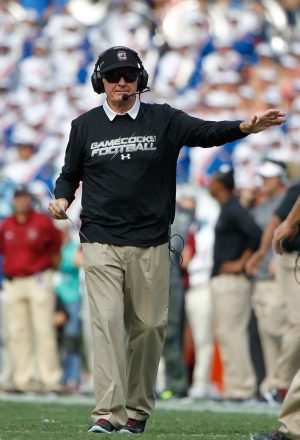 It's almost impossible to discuss Gator Sports without mentioning Steve Spurrier. The two are synonymous with each other. Steve started his career as a Gator back in 1963 as a quarterback; winning the Heisman Trophy as a senior in the 1966 season. Spurrier started his coaching career in Florida in 1990. The the program has never looked back since. During his tenure, Spurrier was named SEC coach of the year 5 times and led the Gators to its first National Championship in 1997. Steve retired from coaching while at South Carolina during the 2015 season and finished his career with a 228-89-2 record. So what's he doing now?
Since retiring from head coaching Gator icon Steve Spurrier has refused to slow down. Spurrier, 71, was just recently named as the Ambassador and Consultant for the Florida Gators Athletic Department. The former Gator head coach has also been busy promoting his new book "Head Ball Coach" as with a promotioal book tour underway that has lead to interviews on ESPN and other various sports media outlets.
Steve discusses his adjustments to retiring.
Coach Spurrier has a busy weekend ahead of him;Coach is scheduled to have a book signing on Friday the 2nd at Barnes and Nobles in Ocala; The very next day Coach has another book signing right here in Gainesville at the University Bookstore from 2:00 PM to 4:00 PM. Arguably the biggest event for Steve comes when the Gators open the 2016 season on September 3rd.  Coach is set to be honored that day as the field once called Florida Field at Ben Hill Griffin Stadium will now be named Steve Spurrier-Florida Field at Ben Hill Griffin Stadium. This decision was made by the University of Florida's Board of Trustees back in June.
Look forward to seeing you this Friday night in Ocala. pic.twitter.com/WKMXVqlTL1

— Coach Steve Spurrier (@SteveSpurrierUF) August 29, 2016
Coach Spurrier talks about the process of writing the book.
With Spurrier being named Ambassador and Consultant of the Florida Gators Athletic Department , a new book and the renaming of the Florida Field, all these additions are just adding to the legacy of the ex. Head Ball coach. and it  can be assured that the Gator community is happy to support him.