Even though the 2016 Summer Olympic Games have been finished for almost a month now, that doesn't stop the talk about the success Gator athletes had in Rio. In fact, 15 swimmers at this year's Olympic Games have connections to the Orange and Blue, whether they are current or former Gators. They are also on rosters for a variety of countries.
Florida's head swimming and diving coach, Gregg Troy, feels fortunate to have had so many successful athletes that come from UF go on to the world stage.
There were indeed Florida swimmers past and present all over the Olympics. Elizabeth Beisel, who competed at her third straight Olympics at only 24-years-old, was the team captain of the United States women's Olympic swim team. Beisel was injured with a broken finger during the Games, but still placed fifth. Troy praised Beisel for staying tough as a leader during what she's been through, after being sick around the Olympic trials and after her collegiate years training for the games.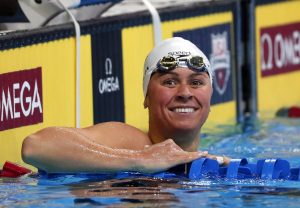 The more well-known Florida swimmers in Caeleb Dressel, Conor Dwyer, and  Ryan Lochte were all able to reach the podium. In fact, UF swimming alone won a total of six medals during the Olympic games, which is more than most countries. Troy also praised the ones who didn't medal but competed at the games. 
Now that school has started back up, some of the Gators that swam at the Olympics have returned to UF for school. Olympic swimmers and current Gators Caeleb Dressel, Jan Switkowski, and Mitch D'Arrigo are back with Coach Troy, but are taking it easier than some of the other athletes to get back into the swing of things.
It's no secret that the University of Florida is a swim powerhouse. These swimmers were able to showcase that at the Rio 2016 Olympic Games, and Coach Troy still looks forward to them contributing to the current Gator swim teams.