Two SEC West schools will have their SEC opener at Jordan-Hare Stadium when the Texas A&M Aggies and the Auburn Tigers face-off Saturday afternoon. At this point of the season, these two teams are in different mindsets. The Aggies started off the season with a bang when they upset the previously ranked UCLA Bruins, in OT, at home. For the Tigers, their season started off with a huge, missed opportunity when they lost a 19-13 game to the Clemson Tigers. This matchup is a story of one team trying to ride a wave to an SEC West title, and the other trying to regroup for a rough conference schedule.
Trevor Knight trying to rediscover himself in College Station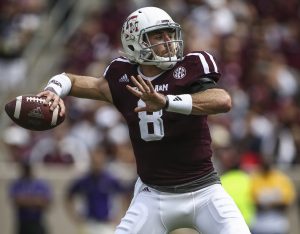 The career of Trevor Knight has been interesting. Knight's freshman year was capped by an impressive win over Alabama in the Sugar Bowl as the starting quarterback for the Oklahoma Sooners. His sophomore year was a let down, based on the expectations put on Knight after his bowl win. Last year, he lost his starting job to a quarterback named, Baker Mayfield. With no chance of winning back the starting gig at Oklahoma, Knight decided to use his fifth year of eligibility to transfer to Texas A&M.
Based on what head coach Kevin Sumlin said in a teleconference, Knight's performance in Week 1 has helped him take more of a leadership role with the team. Things seem well in College Station so far, but the Aggies will need consistent production from Knight to have a chance of winning the SEC West.
No need to worry about the Aggies defense, unless you're an opposing offense
Texas A&M's defense has dramatically improved under defensive coordinator, John Chavis. Under his tutelage, the Aggies defense improved by more than 50 spots nationally in total defensive yards. Last year his defense ranked in the Top-25 in passing defense, sacks and tackles for loss.
A big reason for the defensive improvement is accredited to stud defensive linemen, Myles Garrett. Believed by many to be a future top-five draft pick, Garrett tore up offensive lines last year on his way to a 12.5 sack season. In lead-up to Saturday's game, Auburn head coach Gus Malzahn talked about how impressive Garret and, fellow defense end, Daeshon Hall are. Safe to say that any team will have struggles stopping a duo that combined for nearly 20 sacks last season.
Even Tim Tebow made it a point to emphasize Myles Garrett's ability leading up to the UCLA-Texas A&M game.
Auburn's rushing attack ready for SEC West
Coach Malzahn was not pleased with his rushing attack in the season opener—he made running the ball a point of emphasis for the Arkansas State game last week. The attention to the run game paid off. The Tigers ran for 87 yards on 41 carries against Clemson in Week 1. Against Arkansas State, the Tiger ran for 462 yards on 62 carries. With how close the Tigers came to beating Clemson, and with the improvements being made so far, some people are picking Auburn as the favorite for Saturday's game. After all there are two things to note: Auburn is at home, and the Tigers beat the Aggies last year 26-10.
 Auburn's starting quarterback, Sean White, also made improvements last week
One pass was the difference between a miraculous win and agonizing defeat. For Sean White, and the Tigers, the latter happened. The Auburn quarterback used last week's three-touchdown, over 300 total yard performance, as a sign of maturation as the team looks forward to their SEC schedule.
Gus Malzahn is talking quarterback Sean White: 'He is confident, and I know his teammates are confident in him, too' pic.twitter.com/AwizSZ1zf9

— Auburn Gold Mine (@AUGoldMine) September 13, 2016
White was the only quarterback to have a passing attempt for the Tigers last week. With White struggling early in the game against Clemson, Jeremy Johnson and John Franklin III had a chance to lead offense to no avail. At the end of the day, it was White who attempted the Hail Mary in the final seconds against Clemson, and the one who cemented himself as the leader of the offense last week.
The Texas A&M-Auburn game will be aired on ESPN at 7 p.m.