When Texas A&M hosts New Mexico State on Saturday, it'll mark the first meeting between both schools. It'll also be an unofficial Battle of the Aggies.
While both teams share the same mascot, they're leagues apart in football talent. Texas A&M (6-1) is an SEC powerhouse ranked in the top 10 while New Mexico State (2-5) is scuffling in the Sun Belt.
Last Time Out
Texas A&M is coming off a 33-14 loss against Alabama, their first of the season. They had a lead as late as the third quarter, but couldn't hold on. NMSU is also coming off a loss. They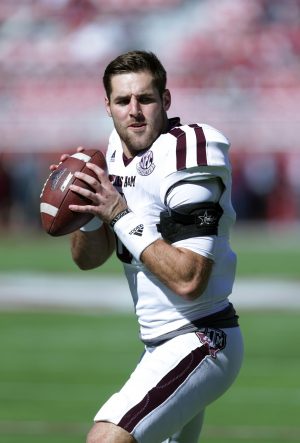 fell 22-19 to Georgia Southern.
Pass Rush Problems
The key matchup in the game will involve the NMSU O-line and TAMU D-line. Texas A&M enters the game with 23 sacks this season, good for 12th-best in the country. Myles Garrett leads the team with four. Along with Daeshon Hall, the two have combined for 18 QB hurries. Unfortunately for New Mexico State, they're poor at pass protection. They've allowed 21 sacks, 111th worst in the country. Despite this, NMSU has a respectable yards per game mark at 434, good for 46th in FBS. Even against an SEC opponent, they still have a chance to rattle off 400+ yards considering TAMU surrenders 439 yards per game. Scoring will be the real issue, though. NMSU averages only 26 points per game, 86th in the country.
QB Matchup
Texas A&M QB Trevor Knight
1,664 passing yards
10 touchdowns
6 interceptions
526 rushing yards
9 rushing touchdowns
New Mexico State QB Tyler Rogers
2,008 yards
10 touchdowns
11 interceptions
234 rushing yards
3 rushing touchdowns
For Texas A&M, this game serves as a breather after a rough stretch of SEC games. They played Auburn, Arkansas, Alabama and Tennessee. Against the Tide, the Aggies struggled mightily. Knight threw for 164 yards and two touchdowns. They weren't much more successful on the ground, racking up 114 yards. Texas A&M is expected to carve out a big first-half lead and rest some starters in the second half.
Kickoff is at 7:30 p.m. on ESPNU.
Up Next
After this game, Texas A&M travel to Starkville to take on Mississippi State for the Aggies' final road game of the season. Meanwhile, New Mexico State enters a bye week. Following the bye week, they'll take on Arkansas State on the road.