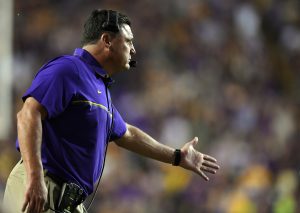 Twelve weeks into the 2016 college football season, the Florida Gators have a chance to clinch the SEC East with just one more victory.
However, in a game that's been hotly debated with issues both on and off the field, things will be anything but easy.
The matchup was initially scheduled for Oct. 8, but was pushed back due to the threat of Hurricane Matthew. At that time, Florida was 4-1, coming off a slim victory to division rival Vanderbilt. LSU sat at 3-2, was without star running back Leonard Fournette and had just fired head coach Les Miles, who had spent the past 11 years leading the team to an 62-28 SEC record.
Now, Fournette is back and interim coach Ed Orgeron has helped team's offense gain more traction.
But the Gators aren't going to make excuses. With a title so close within their grasp, there's no time for that. Florida quarterback Austin Appleby, who is starting in place of the injured Luke Del Rio, knows that it's the biggest test for the team yet.
Injury Woes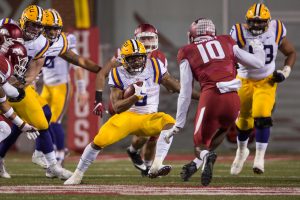 However, injuries have stifled the flow of their game, particularly on the defensive side. Linebackers Jarrad Davis and Alex Anzalone, who are first and second in total tackles on the team, are out. Safety Marcus Maye, who is third on the team, is sidelined for the year.
Defensive lineman Bryan Cox Jr. is most likely not going to play because of a leg injury, and sophomore CeCe Jefferson will try to give it a go, but will be closely monitored due to a foot issue.
On top of that, the offensive line is struggling to recover. Center Cam Dillard is out for the year. And linemen David Sharpe and Tyler Jordan having been dealing with kinks, but will attempt to play through it.
Up To The Defense
Defense has easily been the focal point of this year's team. The Gators boast a defense that ranks third in the nation, giving up only 266.8 yards per game. But with holes at so many key positions, Florida's effectiveness is in question.
After averaging only 21 points under Les Miles' tutelage through the first four games of the season, the team has found more of an offensive rhythm, averaging 32.6 points per game.
That's partly due to the running back tandem of Fournette and back-up Derrius Guice; They have combined to average over six yards per rushing attempt. That carries an offense that is currently dead last in the conference in passing yards per game. And with so many injuries to the Gator front seven, that rushing attack becomes lethal.
Florida head coach Jim McElwain knows that the team they're playing is extremely talented, and could be even better then their current record suggests.
The two teams will meet in Death Valley Saturday afternoon at noon. Florida will either leave the game as the repeating SEC East champions, or carry a 7-3 record into their regular season finale against in-state rival Florida State. A loss against LSU opens the door for Tennessee to tie Florida in the conference. The Vols hold the tiebreaker.
Appleby knows they have the weapons, but also recognizes it'll all come down to execution in one of the nation's toughest college stadiums to play in.