For the second straight game, Canyon Barry's second half rally led the Gators to victory. Florida took down Belmont on Monday night at the Amalie Arena in Tampa, 78-61, thanks in part to Barry's 14 points in the second half on 5-of-6 shooting. The son of NBA legend Rick Barry sunk all of his trademark underhand free throws en route to 17 total points and two rebounds.
"I was able to get to the rim and convert a couple of And1's, and then from there I think my confidence kind of increased and I was able to knock down some shots," said Canyon Barry.
Final stats from Belmont-Florida. pic.twitter.com/HSFQO0zzXK

— Jake Winderman (@jakewinderman) November 22, 2016
The Gators put together another solid performance at the free throw line, knocking down 19-of-24 (79%) shots from the charity stripe. Florida scored 20 points off of Belmont's 20 turnovers, maximizing their efficiency on the full-court press. KeVaughn Allen and John Egbunu were also crucial in the victory, as Allen added 14 points, while Egbunu went 4-of-4, scoring 12 points and grabbing eight boards.
"Belmont's a good team, especially when you've got a team that shoots that many three-pointers," Barry said. "They're a dangerous team to play because you never know. They could make 10 threes in a game and it's a whole different ball game. But the starters came out with a ton of energy and we were able to set the tone early."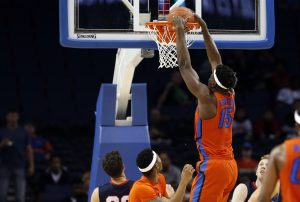 Evan Bradds was one of only two Belmont players who finished in double-digit scoring. Bradds knocked down 7-of-9 shots for 17 points. Neither team shot well from beyond the arc, as Belmont went 7-of-27 (26%) and Florida finished 5-of-21 (24%). Florida's reserves came out in full force outscoring the Bruins in bench points, 36-17. Both teams finished with 34 total rebounds, but the Gators held the advantage in second chance points, 13-6.
"He [Bradds] was the focal point of the scouting report, and we threw a bunch of different bodies at him, and gave him a bunch of different looks and he [still] goes 7-9," Coach Mike White said following the game.
Belmont's defense started out lackadaisical, playing off of Florida in the half-court offense. The Gators took firm advantage of this jumping to an 8-0 lead with 17 minutes left to play in the first half. Coach Rick Byrd then took a timeout to try and steady his team.
Coach Byrd's first timeout didn't do much, so he took his second timeout just two short minutes later. At that point, the Gators led 12-0 and had forced five Belmont turnovers in the first five minutes.
With just under 12 minutes left in the first half, the Gators led 22-4 and were dominating the Bruins in all facets of the game. Florida started playing full-court press about a quarter of the way through the first half, completely stagnating Belmont's offense.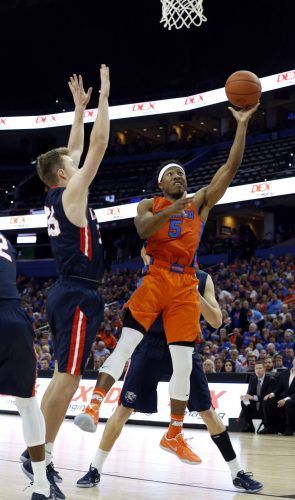 Belmont went on a bit of a run to draw the game closer, diminishing Florida's lead to 18 with 6:30 left in the first half. Evan Bradd's posterization with 1:27 left in the first half cut down Florida's lead to 13.
The Bruins ended the half on an 8-4 run, making it a 38-26 game at halftime. Florida went a terrible 0-of-8 (0%) from downtown, while Belmont went 3-of-11 (27%) from long range. Overall, the Gators went 14-of-30 (47%) from the floor in the first half as Belmont went 11-of-25 (44%). Belmont only shot two free throws in the first half, going 1-of-2 (50%). Florida was successful from the charity stripe, knocking down 10-of-13 shots (77%).
Florida's advantage came off of turnovers in the first twenty minutes. The Gators forced 13 takeaways, leading to 13 points. They also outscored Belmont on second chance points, 10-2, and outscored the Bruins on bench points, 15-8.
John Egbunu was UF's leading scorer and rebounder in the first half, scoring nine points on 3-of-3 shooting, including a 3-of-4 performance from the line. He also grabbed four total boards. Evan Bradds, the senior stud, led both teams in scoring at the end of the first twenty minutes, dropping 10 on 5-of-7 shooting. Only five Belmont players scored in the first half, while seven different players recorded points for Florida.
Belmont drilled a three-pointer to open the second half, cutting the Gators' lead down to single digits for the first time since the 16:54 mark of the first twenty minutes. The Bruins started out 2-of-5 from downtown.
Canyon Barry once again proved to be the Gators' second half energizer bunny, going 3-of-3 to open up the final twenty minutes, scoring seven points. Barry hit three straight three-pointers against St. Bonaventure in the game before Belmont to open up the second half.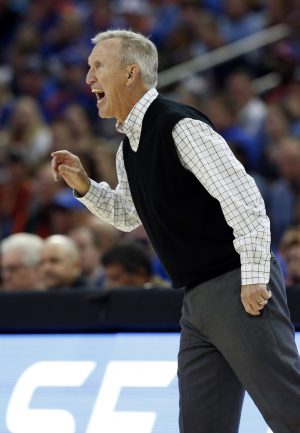 A 15-0 run gave Florida a 24-point lead with 12:44 left in the final frame, their biggest lead of the game up to that point. Belmont opened the second half a poor 5-of-13 from the floor, and 3-of-8 from downtown. They also were 1-of-2 at the foul line up to that point.
A 9-0 run by the Bruins cut Florida's lead back down to under 20 with 10:24 left in the game. A KeVaughn Allen three-pointer finally ended the run, putting Florida up by 19 with 8:46 left in the contest.
Belmont closed the game on a 7-2 run, but it wouldn't be enough as Florida took down the Bruins, 78-61. The Gators play next on Thursday, November 24, against Seton Hall in Orlando at 8:30 p.m. during the Advocare Invitational Tournament.
https://twitter.com/GatorsMBK/status/800886804765437953