At the beginning of Florida's 2016 season, Jordan Scarlett was one of five tailbacks contending for playing time in the backfield. Along with Scarlett – Mark Thompson, Mark Herndon, Jordan Cronkrite, and Lamical Perine all had opportunities to showcase their talents this fall.
Now, as Florida (8-4) prepares for their Outback Bowl season finale against the Iowa Hawkeyes (8-4), Scarlett has solidified himself as the Gators' premier back.
With one of the best defenses in the country serving as a stark contrast, Florida's offensive woes are uncharacteristic of the program. Despite adversity in the form of team injuries and intense competition, Scarlett has served as a silver lining in an otherwise bleak offensive effort.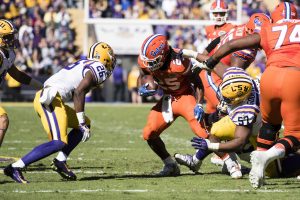 Scarlett says offensive coordinator Doug Nussmeier "calls good plays", but the actual execution of his gameplan has been lacking. As for whatever is holding the offense back, Scarlett blames the small details, but said that the unit will be "really great" if they focus on Iowa to end the season.
Part of Florida's problem? The dreaded injury bug.
Two of Florida's losses have come in the past four games, a span when Florida was missing an average of ten starters in each contest. Roughly 30 percent of UF's roster is injured, and throughout this season, the Gators had an average of 5.2 starters missing games due to injury.
Scarlett has played well despite a depleted offensive line, and this year he tied fellow Gators Kelvin Taylor (2015) and Tim Tebow (2009) by rushing for touchdowns in six consecutive games, the most since Percy Harvin finished the 2008 season with seven.
"I've been working a long time…I was just waiting on my opportunity, and I told myself 'every time I get the ball, I'll just try the best that I can.'" Scarlett said. The strategy has worked thus far: Scarlett is averaging  66.2 rushing yards per game, nearly twice as many as UF's next leading rusher, true freshman Lamical Perine (33.5).
The running game will be important if Florida intends on beating Iowa. Florida has averaged 172.8 rushing yards in their eight wins, and only 44.0 rushing yards in their four losses.
The Outback Bowl kicks off at 1 PM on January 2nd from Raymond James Stadium in Tampa Bay, Florida.