The Philadelphia 76ers have taken on the motto of "Trust the Process." The centerpiece of that process: Joel Embiid, an alum of The Rock School in Gainesville.
Embiid's Roots
Before he made his way to the United States, Embiid was born and raised in Yaoundè, Cameroon. At 15, he picked up a basketball for the first time, unknowingly of how the game would change his life.
Embiid began developing his basketball skills in his home country at local basketball clinics when fellow countrymen and NBA player Luc Richard Mbah a Moute noticed his raw talent. Mbah a Moute helped Embiid make the decision to move to the U.S. a year later, starting his high school career at Montverde Academy. He transferred to The Rock School, where he helped led the team to 33-4 record and a state championship his senior year in 2012. The five-star recruit averaged 13 points, 10 rebounds and 2 blocks that season.
Getting better every day…. This so much fun #TheProcess #Playoffs pic.twitter.com/mHf2l5caH8

— Joel Embiid (@JoelEmbiid) January 14, 2017
As his skills and basketball profile began to rise at The Rock, 13 universities began courting the 7'0″ post player. He made the decision to go to Kansas but was a "one-and-done" for the program. Embiid declared early for the draft in April, but his prospect was plagued by a foot injury that would trouble him in his early career.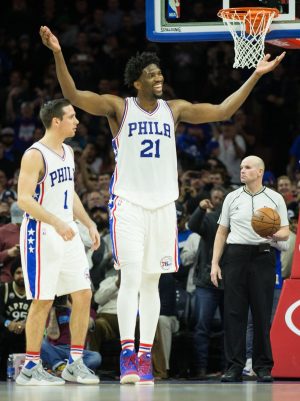 Days before the draft, Embiid underwent foot surgery to repair a navicular bone in his right foot, a procedure known to inflict big players and chip away at their speed and agility. He ended up the third overall pick in the 2014 NBA draft and was set to continue his journey in Philadelphia.
NBA Journey
That journey didn't start off smoothly. He missed the entirety of the 2014-15 season and complications forced him into another one. There were doubts that he would ever make a real NBA debut.
Embiid was able to overcome injuries and finally had his time to shine on the big stage. This season, he's been given the challenge of being a part of a young but promising 76ers team that is hoped to rebuild the struggling franchise. Philadelphia hasn't seen a playoff berth in the last four straight season and finished the 2015-2016 season 10–72.
Now taking on his official rookie year, Embiid is doing so in stride. Embiid has helped the Sixers to 14 victories so far this season, playing in 27 of 37 games. He leads the team in scoring (19.4 ppg), blocks (60), rebounds (7.5), and hit 29 3-pointers even with playing-time restrictions forced on him in order to preserve his long-term health.
It's still early, but Embiid exudes promise and energy for a team that has had a dismal time at winning in recent years.
This Season
Embiid is the first 76er since Allen Iverson to score at least 20 points in 10 straight games of a single season – putting up 26 points in the Philadelphia 76ers' win over the Toronto Raptors on Wednesday night. He's also known for resembling Iverson not only in his play but his attitude and demeanor on the court.
His ability to play off the Sixers crowd showed in the win over the Raptors.  When he took to the free-throw line, the crowd began chanting "Trust the Process". In between shots, Embiid lifted his arms, encouraging the crowd to chant louder as he toed the line for his next shot. He drained it.
Embiid said after the game that he feels that he feels it really catching on and how it makes the wins mean even more.
Social Media Star
His popularity has carried over to social media, as the 76ers organization and Embiid have been pushing on Twitter to get Embiid a bid in the NBA All-Star game. Embiid's likability has expanded from everyday fans to other professional sports stars in Philadelphia like Union soccer players Andre Blake and Fabian Herbers and Eagles quarterback Carson Wentz and wide receiver Jordan Matthews.
I think I'm a little late to the party, but this dude @JoelEmbiid has been a monster. Get him in the All-Star game…. Joel Embiid #NBAVote

— Carson Wentz (@cj_wentz) January 13, 2017
It's even caught on outside Philly with the UFC Twitter tweeting out #NBAVote in support of him as well as professional wrestler Triple H and comedian Kevin Hart.
Let's help get @JoelEmbiid into the 2017 @NBAAllStar Game in New Orleans. Make sure to retweet to vote! #NBAVOTE @Sixers #NBAAllStar #nba

— Kevin Hart (@KevinHart4real) January 14, 2017
As of January 12, Embiid was fourth in the Eastern Conference front court players with 457,300 votes, just trailing Kevin Love. Regardless of this All-Star game's results, Embiid will have a chance to continue to make waves as the 76ers work to become a force to be reckoned with in the NBA while Embiid continues to create a unique and productive career.