After losing to Arkansas by one point two weeks ago, Vanderbilt (11-12) is looking for redemption tonight.
When the two teams played on January 24th in Nashville, Arkansas left with the win 71-70. Tonight, Arkansas (17-6) is looking to leave with a clean sweep against the Commodores and Vanderbilt is looking for their fifth SEC win.
https://twitter.com/RazorbackMBB/status/828987937916194816
Last Showdown
January's game literally came down to the last second.
A 7-0 run sealed the win for the Arkansas Razorbacks in January. With :20 left, the Vanderbilt Commodores were up by two. Then, Arkansas guard Daryl Macon was fouled behind the three-point line with :01 left on the clock.
He only needed to make two to tie the game.
Macon made all three.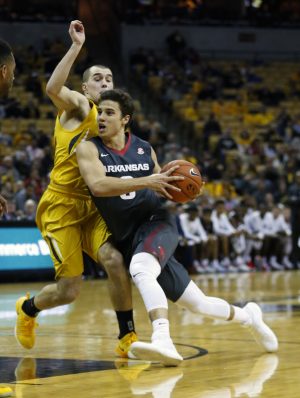 It was a tight game, but Arkansas outplayed the Commodores that night. The Razorbacks outscored Vanderbilt in the paint, 32-18. The Commodores trailed behind in rebounds, too, 34-31. What the Commodores did have more of, though, were turnover with 15 to the Razorbacks' 10.
Despite these numbers, Arkansas Head Coach Mike Anderson does not think Tuesday night's win will be easy if the Commodores continue to play good defense.
Razorback guard Dusty Hannahs led both teams in points with 17, followed by Vanderbilt guard Riley LaChance's 16. Arkansas forward Moses Kingsley and Vanderbilt forward Jeff Roberson tied in rebounds, going up for 11 each.
Arkansas shot for 70.8 percent from the line, knocking down 17 of their 24 free throws. Vanderbilt did a little better from the line, ending the with 80.8 percent for 21 of their 26 free throws.
Looking Forward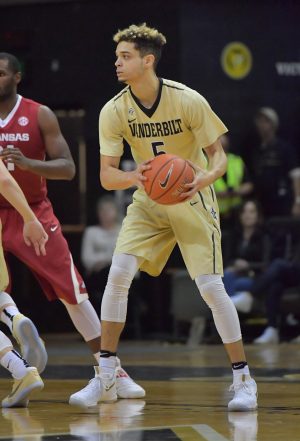 Since they met up in January, Vanderbilt has won two of their last three games. Arkansas has lost two of their three games.
Both teams are coming off losses when they take the court on Tuesday night. The Razorbacks fell on the road to Missouri on Saturday, 83-78. Vanderbilt lost at home to Ole Miss, 81-74.
At the home in the Bud Walton Arena, Arkansas is 12-2 and has won the last three games at home.  Vanderbilt, on the other hand, is 3-4 on the road.
Dusty Hannahs leads the Razorbacks in points this season with 14.2 per game. It's Matthew Fisher-Davis who leads the Commodores with 15.6.
Tip-off for Tuesday night's game is set for 7:30 p.m.