The top-ranked Florida Gator softball team (6-0) will play in front of its home crowd for the first time this season when UF hosts the Aquafina Invitational this weekend.
The Gators are coming off of a 6-0 road win against the JU Dophins. In that game, Florida extended their streak to 19-0 all-time against Jacksonville.
Florida's first home game of the season will take place Friday against FAMU at 3:45 p.m. Then, Florida will take on Northwestern State at 6 p.m. The Gators then open up Saturday's schedule with an 11:15 matchup gainst Maryland, before hosting Northwestern State again at 1:30 p.m. On Sunday, the Gators have an early game against FIU (5-1) at 11:15 a.m. Florida is 34-1 against in-state opponents since the start of 2014.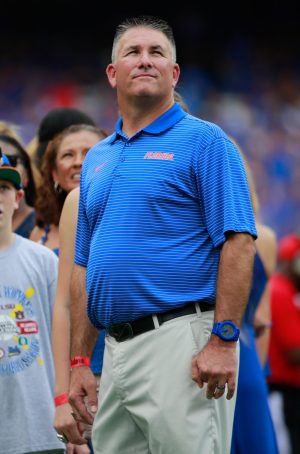 Starting fast
Gator softball head coach Tim Walton says he wasn't surprised by the way Florida opened up their season.
"Really happy with the way our players performed," Walton said of the USF-Wilson Demarini Tournament.
Senior left-handed pitcher Delanie Gourley has yet to give up a run through 15.0 innings pitched. The All-American has also recorded 24 strikeouts. Walton praised junior Kayli Kvistad for seeming disappointed in herself, even though she got on base consistently throughout the weekend. Kvistad went 3 for 6, with 9 walks, 2 hit-by-pitches, and a sacrifice fly.
"I think that was just the honesty in some of our competitors." Walton said. "They really want to get a hit every time they go up there, and just looking at what Kayli's performance was this weekend – it was really outstanding…"
Getting it done on offense and defense
Florida's well-balanced attack is the determining factor in this season's outcome. Led by All-Americans like Gourley and junior Aleshia Ocasio, the Gators boast one of the best pitching staffs in the country. Florida also features one of the nation's best young pitchers in Kelly Barnhill. Barnhill finished 2016 as an NFCA Freshman of the Year Top Three Finalist.
If Florida expects to avenge last season's early exit from postseason play, the Gators will need a consistent offensive effort from their younger players.
"We swing at strikes," Walton explained, defending his players' discipline. "And if they're balls, we're not going to swing at it." Florida amassed 32 walks through the first five appearances of the season, along with 9 home runs.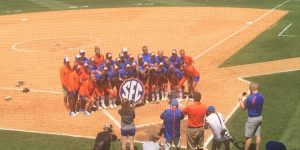 Florida's home-opener from Katie Seashole Pressly Stadium will be on Friday at 3:45 p.m. against FAMU.