Gator football is back today as spring practice begins for the football team this afternoon. The team will start preparing for their Orange and Blue Debut that will conclude spring practices on Friday, April 7 at 7:30 p.m.
The team has undergone lots of changes including coaching positions, facility creations and player commits and coach Jim McElwain says that there is a lot of excitement and momentum around Gator sports at this time as a result.
Gators Off The Field
Florida has struggled with injuries over their past couple of seasons and this spring there are injuries keeping some players off the field as well.
Players that will be out for spring include:
Quarterback- Luke Del Rio
Offensive Line- Antonio Riles
Wide Receiver- Freddie Swain
Defensive end- Jordan Sherit
Linebacker- David Reese
Defensive Back- Jeawon Taylor
Defensive Back- Quincy Lenton
Players that will be participating in non-contact drills due to injuries
Wide Receiver- Dre Massey
Linebacker- James Housten
Defensive back- C.J. McWilliams
Quarterback Position
Florida's only returning starter from this position, Luke Del Rio, is out due to shoulder surgery earlier this year. The Gators will look to fill this position with three potential prospects.
Feleipe Franks is one of the three quarterbacks with a high potential of starting in the fall. In the Orange and Blue debut a year ago, Franks completed one touchdown pass and threw three interceptions. He will look to improve on his performance as he gains more confidence in the offense.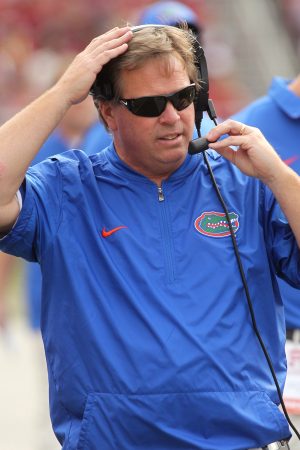 Sophomore quarterback Kyle Trask will also be competing for this position. Trask has little experience as a starting quarterback but will work to gain experience in the spring to be a potential start on the Gator offense.
The final athlete gaining reps in the quarterback position with Luke Del Rio absence is freshman Kadarius Toney. McElwain says that the team is looking to see what he can do for the Gator offense in his reps this spring.
Coaching Staff
Finally, the Florida team has new faces on the coaching staff that will be taking the field today as well. After losing defensive backs' coach Torrian Gray, the Gators hired USF secondary coach Corey Bell to fill the position. McElwain also filled the staff with North Texas offensive-line coach Brad Davis after Gator's offensive-line coach Mike Summers left the team. A new assistant coach for McElwain will join the staff as well as JuJuan Seider will be out on the field later today for spring practice.