Last night the Dallas Mavericks handed the Miami Heat their third loss in 19 games. Traveling from American Airlines Arena, and into American Airlines Center, Miami fell on the road 96 – 89. With the passing of the All Star break, each game is critical to the team's success due to playoff implications. Right now the Heat sit a game and a half out of eighth place, as they trail the Detroit Pistons.
Postgame 📽

3️⃣: https://t.co/gBKvbDxWCl
4️⃣0️⃣: https://t.co/B8yDHnhoO1
3️⃣0️⃣⤵️ pic.twitter.com/yJ09Bhyphf

— Dallas Mavericks (@dallasmavs) February 28, 2017
Dragic: "Like [a] pickup game"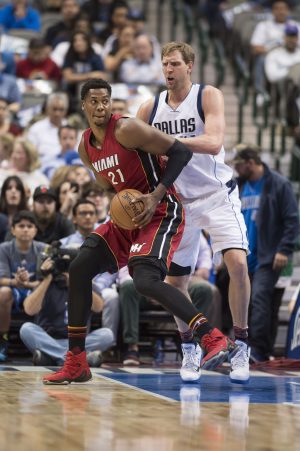 The Heat's offense, while usually dynamic, had no answer to the Dallas attack. Point guard Goran Dragic played well, as he contributed 24 points, 6 assists, and 5 rebounds. He also added three steals on the defensive end. While his performance was noteworthy, even the guard said the effort wasn't there last night.
The team's star power attempted to shoulder the load this game but it just wasn't enough. Center Hassan Whiteside had an impressive 19 points and 19 rebounds. Shooting guard Dion Waiters had 12 points, but might've hurt his team more with his shooting. Waiters shot 4 for 12 from the floor, but he made up for it by adding 6 assists, 3 boards and 2 steals.
Overall, Miami's new big three was unable to outpace their opponents down the stretch. With about 5 minutes left to play in the 4th, the Heat conceded a 12 – 0 run. An inexcusable feat if the team hopes to make their way into the playoffs. In fact, it was a lackluster effort all around as for the first time in 16 games the Heat fell short of 100 points. The 16 game streak was a franchise best record.
Head coach Erik Spoelstra said the team needs to find a way to win even if the offense isn't clicking. But the bench wasn't helping, as only one other player scored in the double digits. Guard Tyler Johnson added 10 points in 24 minutes. Which is more than what starters Rodney McGruder and Luke Babbit managed to put up. The two combined for only five points.
Dallas Revitalized after All Star Break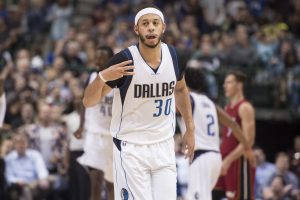 This time last year, Warriors point guard Steph Curry was tying the then-record of most three pointers in one game. Last night, he set a career worst of 0 for 11 from beyond the arc. But one Curry brother was around to carry on the family tradition. Dallas guard Seth Curry, younger sibling of MVP winner Steph Curry, dropped 29 points on the Heat. Additionally, he was 5 for 7 from beyond the arc. Curry was clutch in the fourth, as he knocked down a deep three to give his team the lead 90 – 89.
But Curry didn't do it alone, as former Golden State forward Harrison Barnes added 24 points and 4 rebounds. The two led the team past the Heat, with small contributions from others. Forward Dirk Nowitzki only had 8 points, but added a season high 12 rebounds. Overall, it was a great victory for the Mavericks who are having a forgettable season. The team is slowly starting the rebuilding process as they're still giving future hall-of-famer Nowitzki the best chance to win.
As for the Heat, it was a slight stumble in their attempt to claw their way back into the playoff race. Their big three in Whitside, Dragic, and Waiters played fine which is a good sign. But if their supporting cast can't provide help against a team that has struggled all year, then maybe it's time for the Heat to start looking forward at this year's NBA draft.