Georgia is once again in the NIT Tournament.  They were given a No. 2 seed and will face No. 7 Belmont again in the first round.  The last time Georgia made it in the NCAA Tournament was in 2015.  The team was hopeful that they would make it this season, but fell short.  Now, they're taking on post-conference play with a chip on their shoulder.
Why the NIT?
Georgia has been to the NIT three out of the past four years.  This year, the team had a hard time competing in the SEC, going 9-9 in the conference and 19-14 overall.  Coach Mark Fox says the team is disappointed they missed the NCAA Tournament this year, but they are going to improve in order to make it there.
Georgia had a Ratings Percentage Index (RPI) rank of 52 and their schedule was ranked 14.  The non-conference losses hurt the Bulldogs more than their conference losses did when it came to selecting the NCAA Tournament teams.
Fox says the SEC has lost some respect from the NCAA, but the teams are working on their competitive level.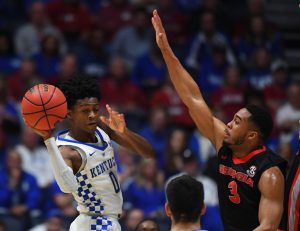 First Game Against Belmont University.
Georgia and Belmont face off in the NIT tournament for the first game again.  In 2016, Georgia beat Belmont 93 to 84.  This year, both teams have improved and are coming into this game and tournament with a chip on their shoulder.
Georgia had a winning season and hoped their improvements from last season would get them to the NCAA Tournament.  Now that they were placed in the NIT Tournament, they are looking to prove they should have been in the NCAA Tournament.
Belmont went 22-6 during the regular season.  They lost in the semi-finals of the Ohio Valley Conference Tournament to Jacksonville State.  This loss took away their hopes of making it to the NCAA Tournament.
Fox says he and Belmont Head Coach Rick Byrd joked that the selection committee didn't check the bracket from last year.
Key Players For Georgia
Senior guard J.J Frazier has averaged 18.5 points per game this season.  Frazier's season high is 36 points, which he scored during the Kentucky game.  He is going to be a tough player for Belmont to defend.
Junior forward Yante Maten is another strong Bulldog that will be tough to defend against.  He is back after hurting his knee in February.  Maten and his height will help Georgia defend against Belmont and their big guys.
Georgia is awarded a 2-seed in the NIT and will face Belmont this Wednesday in Stegeman Coliseum at 7pm ET. #GoDawgs pic.twitter.com/fqkPRgmwoN

— Georgia Basketball (@UGABasketball) March 13, 2017
The game starts Wednesday March 15 at 7 p.m. and will be aired on ESPN3.