The Gators' women's golf team finished in third place as a team at seven-under (857) in the Clemson Invitational.  The Gators stroked an even par (288) in the final round on Sunday to secure a spot on the podium. 
Florida's 288 was the second lowest score of the day Sunday.
The Reserve at Lake Keowee, Sunset, S.C.
The Clemson Invitational hosted 17 women's college golf teams.  The field consisted of seven top-3o ranked teams in No. 4 Florida State, No. 5 Florida, No. 8 Furman, No. 18 Texas A&M, No. 22 Oklahoma, No. 27 Texas and No. 28 Ohio State.  Columbia, Houston, Louisville, Michigan State, Mississippi State, Tennessee, Tulane, UNCW, Vanderbilt, and Clemson rounded out the field of seventeen.
Florida State won the team title at ten-under (854), while FSU's Matilda Castren seized the individual title at nine-under (207).
Furman finished in second at eight-under (856).
Gators' Individual Performances
Senior Maria Torres led the way with her sixth top-ten finish of the season.  Torres' steady play guided her to a tie for second place individually, posting a seven-under (209) score in the tournament.
Taylor Tomlinson and Karolina Vlckova both tied for 12th overall, finishing at an even-par (216) for the weekend.  The performance marks Tomlinson's fifth and Vlckova's fourth top-15 finish for the season.
Freshman Carlotta Ricolfi competed as an individual this past weekend, finishing tied for 29th at four-over (220). 
Head Coach Emily Glaser commended the Gators' fortitude over the weekend.  "It's a great lesson that every shot counts. Unfortunately today, we made too many mistakes to make any kind of real run at FSU.  We led the field this week in birdies so we got it half right, but our mistakes cost us this week."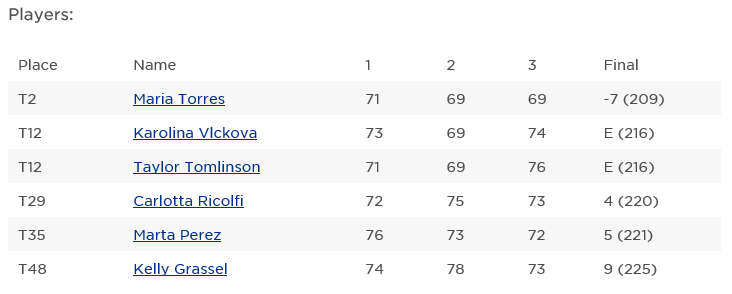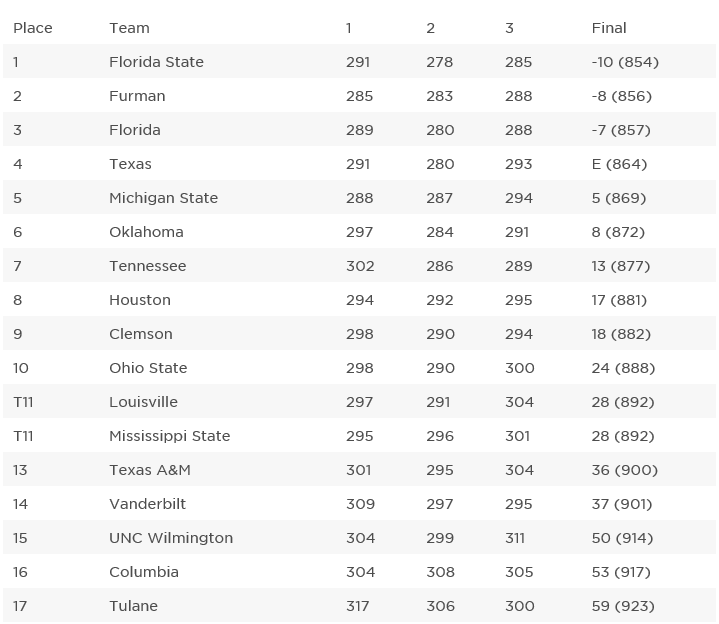 Up Next for the Gators
The Clemson Invitational marks the last regular season tournament for the Gators' women's golf team.
The Orange and Blue will be back in action at the SEC Championships in Birmingham, Alabama on April 21-23.