The Florida State Seminoles have two days remaining before their annual Garnet and Gold game on Saturday. After finishing last year's season with a 10-3 record, they will look to become a dominant force once again.
Expectations for Saturday
After Wednesday's practice head coach Jimbo Fisher said that their main focus is on game management. He and his staff really want the team to take advantage of Saturday's game to become accustomed to game- like situations. In the video below, coach Fisher talks about the atmosphere of the spring game being important for his guys.
Saturday's debut will be the closest thing the Seminoles have to prepare for all the chaos and emotion of a regular season game. Fisher said that he was happy with yesterday's practice and that the team got better. Today, the team will practice in pads as they continue to prepare for Saturday's game plan.
https://twitter.com/FSU_Football/status/849777534862598144
Preparation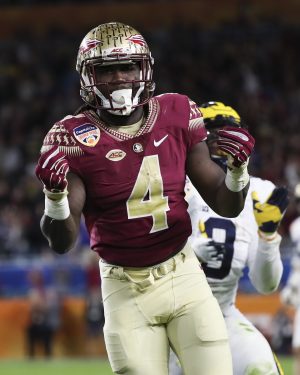 The Seminoles will be adjusting to playing without their star running back Dalvin Cook. Cook was a big part in the Noles' offense, contributing 288 carries for 1,765 yards. Cook decided not to return his senior year and will go to the NFL.
Throughout spring, the Noles have had a number of injuries to key offensive players such as Josh Ball (Guard), Derrick Kelly (Guard), David Robbins (Guard) and Andrew Boselli (Center). The Noles have a young offensive line this year and although injuries have plagued the Seminoles this spring, it has forced others to really step up. Fisher said that the offense has a lot of work to do because communication and line ups are always changing.
The spring game will be extremely important for the Seminoles, who will have their first big test in their season opener against the Alabama Crimson Tide. Kickoff on Saturday is at 3 p.m on ESPN.