The third-ranked Florida Gator softball team (37-2) swept 18th-ranked Georgia (27-14) with a 3-0 win on Monday night in Gainesville.  Last season, Florida was unexpectedly knocked out of the NCAA Super Regionals after the visiting Bulldogs secured a 3-2 victory with a walkoff home run.
With the win, Florida improved to 13-1 in SEC play, while Georgia (2-10 SEC) fell to dead last in the conference standings.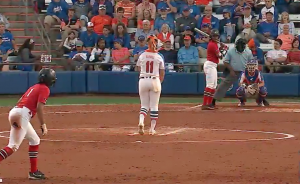 Neither team found offense easily. Florida's Kelly Barnhill threw seven scoreless innings, allowing just two hits while striking out 14 as she improved to 15-0. Georgia's Brittany Gray is 17-8 after shouldering the loss for the Bulldogs, pitching 5.1 innings and allowing three earned runs on four hits.
Gray recorded just one strikeout against Gators.
The Scoring
Florida's first scores of the night came in the bottom of the third by way of Kayli Kvistad's two-run homer to right field. Kvistad's fifth homer of the season was also her only hit of the series. Kvistad said it was the right pitch at the right time, and credits Georgia's pitchers for making the weekend tough on the Gators.
Kelly Barnhill kept the lead and added her seventh strikeout of the night to close out the top of the fourth. She then struck out the side in the top of the fifth, making quick work of Georgia's hitters.
Amanda Lorenz earned a walk in the bottom of the fifth and pushed her reached base streak up to 39 consecutive games, but she was ultimately left on base.
Chelsea Herndon got in on the fun in the bottom of the sixth, rocking a solo homer to centerfield to give the Gators a 3-0 lead. Herndon's clutch pinch hitting prompted Kylie Bass to take the circle for the Bulldogs.
Barnhill closed out the seventh inning with two more strikeouts and Florida's defense handled the rest.
The Gators will be back at home Wednesday against in-state rival FSU.