Stanford's Solomon Thomas, one of the top defensive prospects in the 2017 NFL Draft, is more than prepared for April 27. Thomas is confident in his abilities and is ready to take on any opportunity he is offered.
Versatility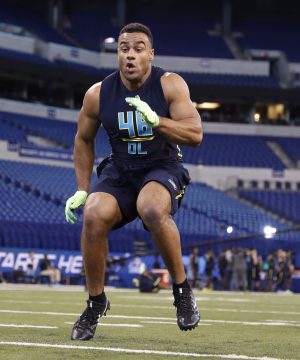 Perhaps one of the best qualities about Solomon Thomas is his versatility. He prides himself on the fact that he can play in any system. Thomas says his own toughness and versatility is what sets him apart, and there is no better guy than him. Being able to fit into multiple roles could be a big advantage for him in the draft. Thomas feels he can excel with any team and in any role he is given.
Work Ethic
One thing that can't be denied about Thomas is his work ethic. His number one priority is football. Thomas says his mind is always set on working to be the best. He also says he never allows himself to be satisfied; he is always working to better his game. His love for football and his strong work ethic largely contribute to his versatility.
If Drafted Before McCaffrey?
Thomas is not the only Stanford star expected to go quickly in the draft. Teammate Christian McCaffrey is almost guaranteed to be an early pick. When asked how he would feel if McCaffrey was picked before him, Thomas says he doesn't really pay attention to those things. In his mind, nothing matters until April 27. He also added that he will just be happy to get back to work and play football.